Rexas Terrace Azabujuban 1br 501
Min stay: 1 month
Limited utilities - ¥20,000/month
Overview
Fully renovated apartment in 2017 located in convenient Azabujuban, Roppongi area where is popular for both shopping and sightseeing.
Well designed luxury living room with long sofa, big dining table and fully equipped kitchen.
Only 3-min walk to the Azabujuban station subway (Namboku Line and Oedo line).
High-speed internet is provided for those who are on business trips.
The apartment is fully renovated new. Big living room with long sofa and fully equipped kitchen. The bedroom has 2 semi-double bed. By using single futon set (paid service) , single linens provided in the room and a sofa in the living room, 1 person can sleep on the sofa. (It is not a sofa bed, cannot be reclined.) The apartment is very comfortable for 2 people but also allowed for 3 people to stay and won't feel crowded. Consumer electronics include: gas range with 2 burners; rice cooker; microwave; tableware; 2 door refrigerator.etc.There are a bathtub and a separate toilet. Washing machine is available. All appliances are brand new and high-end. 

Area Guide:

This Azabu Juban is family friendly neighbourhood is just 1 stop from Roppongi. It is a premium neighborhood where celebrities and high income individual stay. There are also a lot of English speaking supermarkets, restaurants, bars, and various shops for your convenience. The apartment is located 15 min by walks to Roppongi, the most popular nightlife area, nice restaurants, bars & nightclubs. Also office district and shopping area (Roppongi Hills & Tokyo Midtown). 

*Optional service: Single futon set ¥ 33,000 (tax included)
*There may be constructions in the neighborhood. Noise may occur if there are constructions in the neighborhood.

Supermarket & Mall: 
Restaurant, Cafe, Convenience Store and Drugstore, all you need for a comfortable life. 
. Supermarket: Nissin World Delicatessen 190m (on foot 2 min) 
SEIJO ISHII 280m (on foot 3 min)
. Convenience store:Familymart 350m (on foot 4 min) 
. Drug store: Smile Azabu 300m (on foot 4 min)

Access:
.Tokyo metro Naboku line Azabujuban station (on foot 3 min)
.Tokyo metro Hibiya Line Roppongi station (on foot 10 min)
.Toe Oedo Line Akabanebashi stastion (on foot 11 min)

[2 plan for choose]
Monthly apartment plan:
This plan does not include regular cleaning.
Only the cleaning fee for moving out will be charged together with the rent.
Cleaning fee/only once
1K, ~22m2 20,000 yen
1K, 23~32m2 25,000 yen
1K/1LDK, 33~50m2 30,000 yen
2LDK, 50~65m2 40,000 yen
65m2~ 50,000 yen~
*Prices may vary depending on the property.

Service Apartment Plan:
The plan includes regular cleaning once a week. Towels and sheets are also changed during regular cleaning, so you can experience life like a hotel.
Moreover, there is also a merit that there is no moving out cleaning fee.
Regular cleaning fee/monthly
1K, ~25m2 50,000 yen
1K, 25~32m2 50,000 yen
1K/1LDK, 33~50m2 60,000 yen
2LDK, 50-65m2 70,000 yen
65m2~90,000 yen
*Prices may vary depending on the property.
Amenities
Room Menu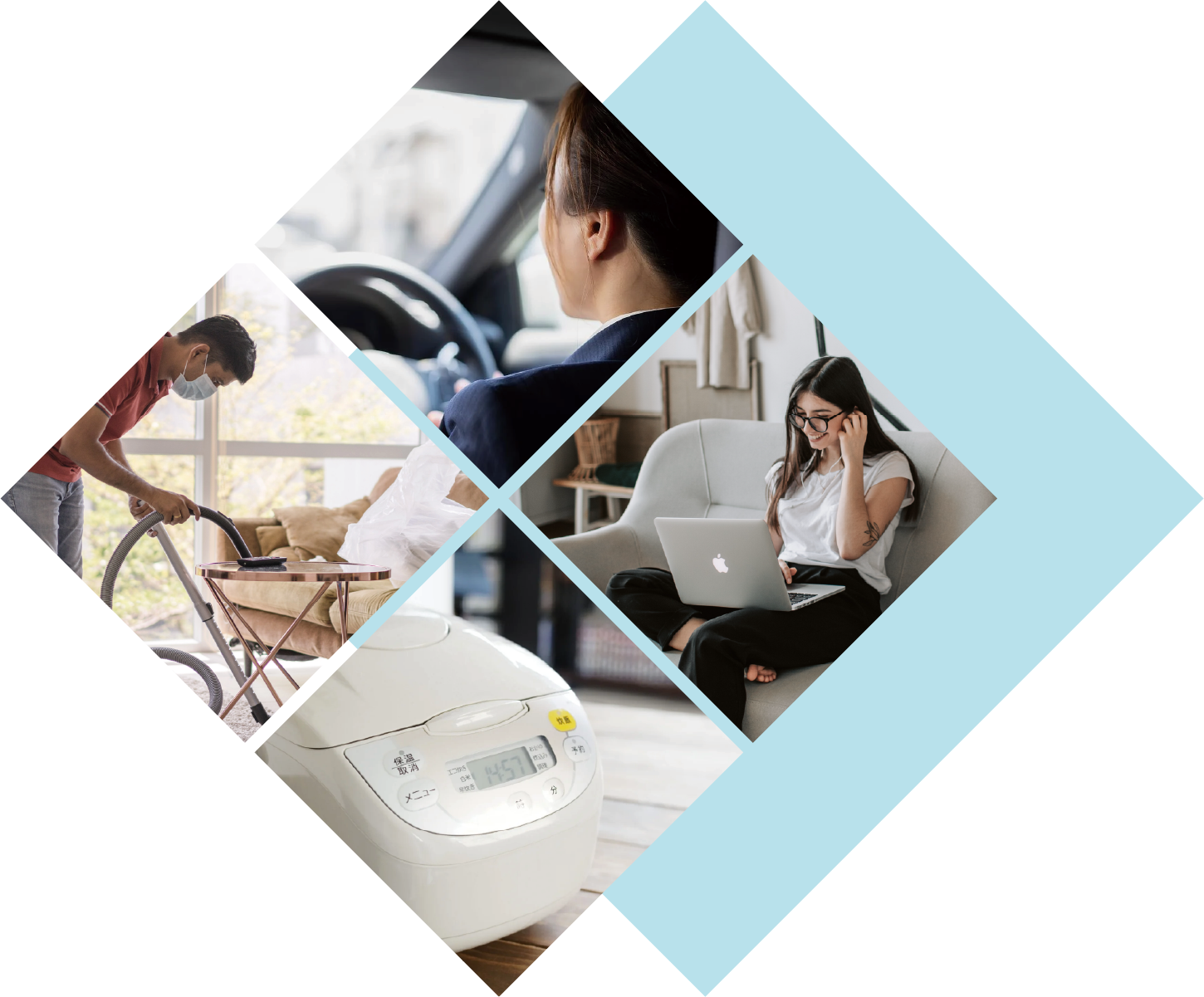 Enhance your stay experience by ordering additional services such as cleaning, airport transfer and printers from our Room menu
For just ¥25,000, you can get professional housekeeping services once every 2 week!
Rental rates
Rexas Terrace Azabujuban 1br 501
Monthly apartment plan
No weekly cleaning
• Furnished apartment
• Free wifi
• Limited utilities - ¥20,000/month
• Move-out deep cleaning
Monthly apartment plan
No weekly cleaning
Serviced apartment plan
Include once times a week housekeeping with linen change
• Furnished apartment
• Free wifi
• Limited utilities - ¥20,000/month
Serviced apartment plan
Include once times a week housekeeping with linen change
Book other apartment types in the same building
Monthly apartment plan
No weekly cleaning
• Furnished apartment
• Free wifi
• Limited utilities - ¥20,000/month
• Move-out deep cleaning
Monthly apartment plan
No weekly cleaning
Serviced apartment plan
Include once times a week housekeeping with linen change
• Furnished apartment
• Free wifi
• Limited utilities - ¥20,000/month
Serviced apartment plan
Include once times a week housekeeping with linen change
Monthly apartment plan
No weekly cleaning
• Furnished apartment
• Free wifi
• Limited utilities - ¥20,000/month
• Move-out deep cleaning
Monthly apartment plan
No weekly cleaning
Serviced apartment plan
Include once times a week housekeeping with linen change
• Furnished apartment
• Free wifi
• Limited utilities - ¥20,000/month
Serviced apartment plan
Include once times a week housekeeping with linen change
Monthly apartment plan
No weekly cleaning
• Furnished apartment
• Free wifi
• Limited utilities - ¥20,000/month
• Move-out deep cleaning
Monthly apartment plan
No weekly cleaning
Serviced apartment plan
Include once times a week housekeeping with linen change
• Furnished apartment
• Free wifi
• Limited utilities - ¥20,000/month
Serviced apartment plan
Include once times a week housekeeping with linen change
Monthly apartment plan
No weekly cleaning
• Furnished apartment
• Free wifi
• Limited utilities - ¥20,000/month
• Move-out deep cleaning
Monthly apartment plan
No weekly cleaning
Serviced apartment plan
Include once times a week housekeeping with linen change
• Furnished apartment
• Free wifi
• Limited utilities - ¥20,000/month
Serviced apartment plan
Include once times a week housekeeping with linen change
Monthly apartment plan
No weekly cleaning
• Furnished apartment
• Free wifi
• Limited utilities - ¥20,000/month
• Move-out deep cleaning
Monthly apartment plan
No weekly cleaning
Serviced apartment plan
Include once times a week housekeeping with linen change
• Furnished apartment
• Free wifi
• Limited utilities - ¥20,000/month
Serviced apartment plan
Include once times a week housekeeping with linen change
Monthly apartment plan
No weekly cleaning
• Furnished apartment
• Free wifi
• Limited utilities - ¥20,000/month
• Move-out deep cleaning
Monthly apartment plan
No weekly cleaning
Serviced apartment plan
Include once times a week housekeeping with linen change
• Furnished apartment
• Free wifi
• Limited utilities - ¥20,000/month
Serviced apartment plan
Include once times a week housekeeping with linen change
Monthly apartment plan
No weekly cleaning
• Furnished apartment
• Free wifi
• Limited utilities - ¥20,000/month
• Move-out deep cleaning
Monthly apartment plan
No weekly cleaning
Serviced apartment plan
Include once times a week housekeeping with linen change
• Furnished apartment
• Free wifi
• Limited utilities - ¥20,000/month
Serviced apartment plan
Include once times a week housekeeping with linen change
Monthly apartment plan
No weekly cleaning
• Furnished apartment
• Free wifi
• Limited utilities - ¥20,000/month
• Move-out deep cleaning
Monthly apartment plan
No weekly cleaning
Serviced apartment plan
Include once times a week housekeeping with linen change
• Furnished apartment
• Free wifi
• Limited utilities - ¥20,000/month
Serviced apartment plan
Include once times a week housekeeping with linen change
Reviews
Related Serviced Apartments
Related Residential Rental
---
Min stay: 1 month
Limited utilities - ¥20,000/month
---