Asyl Court Azabujuban Studio A4
Min stay: 1 month
Limited utilities - ¥15,000/month
Overview
Newly built in 2017. Offering 1 bedroom type in a high grade residential area. Only 8 minute walk to the nearest station with 2 train lines available. High speed internet, TV, 24 hour security system, bicycle parking, microwave・toaster, refrigerator, available. 2 minute walk to Azabu Juban Street with famous restaurants・bars and supermarkets.
Convenient for access to all parts of Tokyo using Azabu Juban Train Station (8 minute walk) using Namboku Line and Oedo line. Walking distance to Roppongi Hills. There are more than 20 embassies in Azabu Juban with many expats living in the area. In contrast to luxury residential area, you are able to experience the downtown atmosphere at the same time.

The spacious living room has a sofa for two people, a double bed, a table, and a TV is available.

Consumer electronics include: gas range with 2 burners; rice cooker; microwave; tableware; 2door refrigerator.etc.A hot-water toilet is on the next door to a large washbasin, washing machine is available.The drying heater is attached to the bathroom and the laundry can be easily dried.


*There may be constructions in the neighborhood. Noise may occur if there are constructions in the neighborhood.


Area Guide:

This Azabu Juban is family friendly neighbourhood is just 1 stop from Roppongi. It is a premium neighborhood where celebrities and high income individual stay. There are also a lot of English speaking supermarkets, restaurants, bars, and various shops for your convenience. The apartment is located 15 min by walks to Roppongi, the most popular nightlife area, nice restaurants, bars & nightclubs. Also office district and shopping area (Roppongi Hills & Tokyo Midtown).

Supermarket & Mall:
.Supermarket: Naniwa 450m (on foot 5 min)
.Convenience store: Lawson 1st floor (on foot 1 min)
.711 seven eleven 350m (on foot 4 min)
.Drug store: Tomozu 600m (on foot 7 min)

Access:
.Tokyo metro Nanboku Line Azabujuban Station (on foot 8 min)
.Toe Mita Line Sirokanetakanawa Station (on foot 12 min)
.Toe Oedo Line Azabujuban Station ( on foot 12 min)


[Two plans are available]
Monthly apartment plan:
This plan does not include regular cleaning.
Only the cleaning fee for moving out will be charged together with the rent.
Cleaning fee/only once
1K, ~22m2 20,000 yen
1K, 23~32m2 25,000 yen
1K/1LDK, 33~50m2 30,000 yen
2LDK, 50~65m2 40,000 yen
65m2~ 50,000 yen~
*Prices may vary depending on the property.
Service Apartment Plan:
The plan includes regular cleaning once a week. Towels and sheets are also changed during regular cleaning, so you can experience life like a hotel.
Moreover, there is also a merit that there is no moving out cleaning fee.
Regular cleaning fee/monthly
1K, ~25m2 50,000 yen
1K, 25~32m2 50,000 yen
1K/1LDK, 33~50m2 60,000 yen
2LDK, 50-65m2 70,000 yen
65m2~90,000 yen
*Prices may vary depending on the property.
Amenities
Room Menu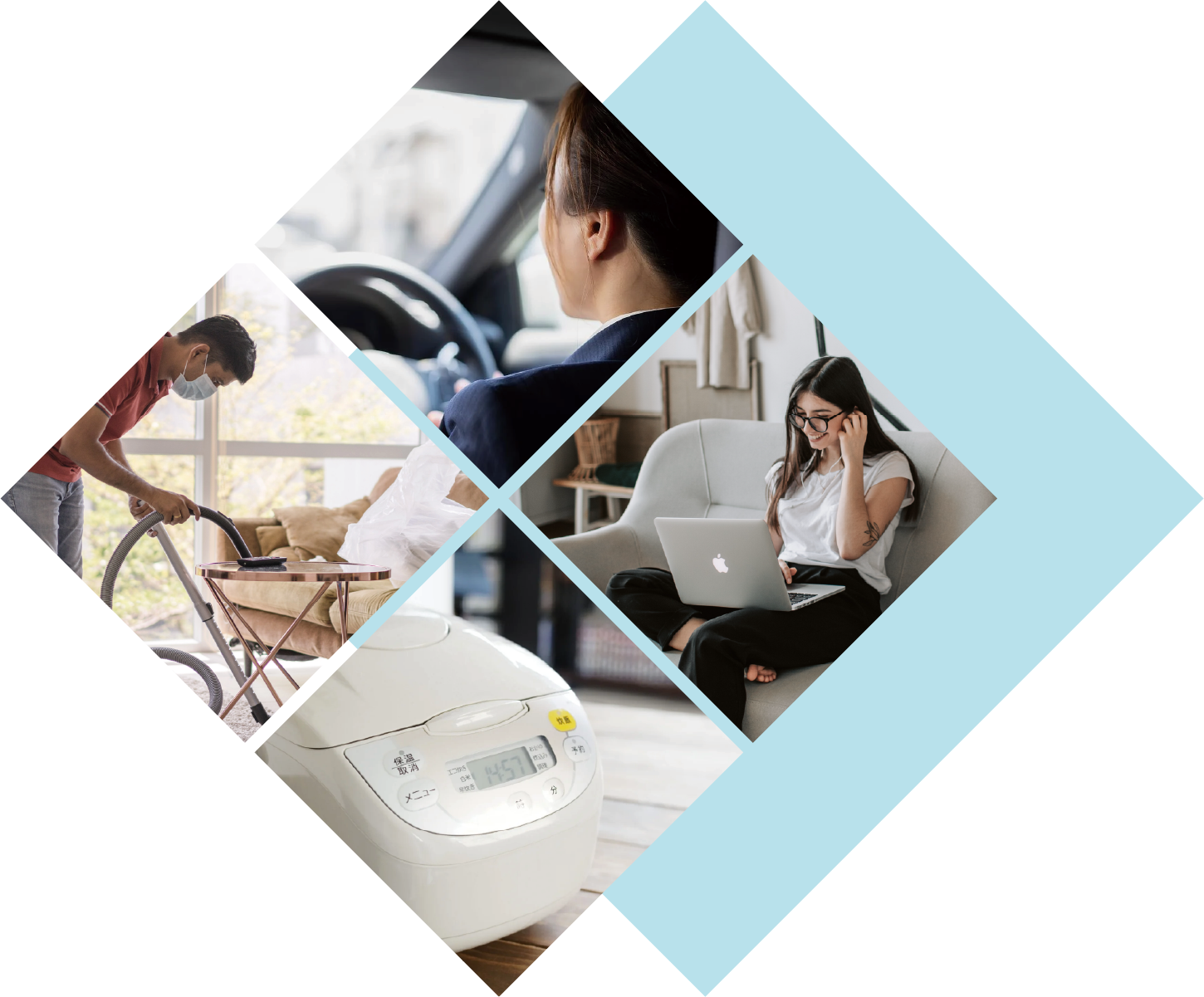 Enhance your stay experience by ordering additional services such as cleaning, airport transfer and printers from our Room menu
For just ¥25,000, you can get professional housekeeping services once every 2 week!
Rental rates
Asyl Court Azabujuban Studio A4
Monthly apartment plan
No weekly cleaning
• Furnished apartment
• Free wifi
• Limited utilities - ¥15,000/month
• Move-out deep cleaning
Monthly apartment plan
No weekly cleaning
Serviced apartment plan
Include once times a week housekeeping with linen change
• Furnished apartment
• Free wifi
• Limited utilities - ¥15,000/month
Serviced apartment plan
Include once times a week housekeeping with linen change
Book other apartment types in the same building
Monthly apartment plan
No weekly cleaning
• Furnished apartment
• Free wifi
• Limited utilities - ¥15,000/month
• Move-out deep cleaning
Monthly apartment plan
No weekly cleaning
Serviced apartment plan
Include once times a week housekeeping with linen change
• Furnished apartment
• Free wifi
• Limited utilities - ¥15,000/month
Serviced apartment plan
Include once times a week housekeeping with linen change
Monthly apartment plan
No weekly cleaning
• Furnished apartment
• Free wifi
• Limited utilities - ¥15,000/month
• Move-out deep cleaning
Monthly apartment plan
No weekly cleaning
Serviced apartment plan
Include once times a week housekeeping with linen change
• Furnished apartment
• Free wifi
• Limited utilities - ¥15,000/month
Serviced apartment plan
Include once times a week housekeeping with linen change
Monthly apartment plan
No weekly cleaning
• Furnished apartment
• Free wifi
• Limited utilities - ¥15,000/month
• Move-out deep cleaning
Monthly apartment plan
No weekly cleaning
Serviced apartment plan
Include once times a week housekeeping with linen change
• Furnished apartment
• Free wifi
• Limited utilities - ¥15,000/month
Serviced apartment plan
Include once times a week housekeeping with linen change
Monthly apartment plan
No weekly cleaning
• Furnished apartment
• Free wifi
• Limited utilities - ¥15,000/month
• Move-out deep cleaning
Monthly apartment plan
No weekly cleaning
Serviced apartment plan
Include once times a week housekeeping with linen change
• Furnished apartment
• Free wifi
• Limited utilities - ¥15,000/month
Serviced apartment plan
Include once times a week housekeeping with linen change
Monthly apartment plan
No weekly cleaning
• Furnished apartment
• Free wifi
• Limited utilities - ¥15,000/month
• Move-out deep cleaning
Monthly apartment plan
No weekly cleaning
Serviced apartment plan
Include once times a week housekeeping with linen change
• Furnished apartment
• Free wifi
• Limited utilities - ¥15,000/month
Serviced apartment plan
Include once times a week housekeeping with linen change
Monthly apartment plan
No weekly cleaning
• Furnished apartment
• Free wifi
• Limited utilities - ¥15,000/month
• Move-out deep cleaning
Monthly apartment plan
No weekly cleaning
Serviced apartment plan
Include once times a week housekeeping with linen change
• Furnished apartment
• Free wifi
• Limited utilities - ¥15,000/month
Serviced apartment plan
Include once times a week housekeeping with linen change
Monthly apartment plan
No weekly cleaning
• Furnished apartment
• Free wifi
• Limited utilities - ¥15,000/month
• Move-out deep cleaning
Monthly apartment plan
No weekly cleaning
Serviced apartment plan
Include once times a week housekeeping with linen change
• Furnished apartment
• Free wifi
• Limited utilities - ¥15,000/month
Serviced apartment plan
Include once times a week housekeeping with linen change
Monthly apartment plan
No weekly cleaning
• Furnished apartment
• Free wifi
• Limited utilities - ¥15,000/month
• Move-out deep cleaning
Monthly apartment plan
No weekly cleaning
Serviced apartment plan
Include once times a week housekeeping with linen change
• Furnished apartment
• Free wifi
• Limited utilities - ¥15,000/month
Serviced apartment plan
Include once times a week housekeeping with linen change
Monthly apartment plan
No weekly cleaning
• Furnished apartment
• Free wifi
• Limited utilities - ¥15,000/month
• Move-out deep cleaning
Monthly apartment plan
No weekly cleaning
Serviced apartment plan
Include once times a week housekeeping with linen change
• Furnished apartment
• Free wifi
• Limited utilities - ¥15,000/month
Serviced apartment plan
Include once times a week housekeeping with linen change
Reviews
Related Serviced Apartments
Related Residential Rental
---
From 12 months
¥195,500
/month
From 6 months
¥207,000
/month
From 3 months
¥218,500
/month
From 1 month
¥230,000
/month
Min stay: 1 month
Limited utilities - ¥15,000/month
---