(Weekly Apartment) Telework Pro - G Ryogoku Studio Sky
Min stay: 4 nights
Limited utilities - ¥15,000/month
Overview
Telework Apartment in Akihabara, Ryogoku area. Nice 25 sqm studio room with luxury furniture design.
Modern Design with abundant sunlight and view to SkyTree. 7 minutes from Ryogoku St (subway).
Just 10 minutes by walk of Sumo Wrestling stadium and 1 train station to Akihabara (JR Soubu Line) and also good access to Azabujuban and Roppongi without train transfers (24 mins, subway).


The spacious living room has a sofa for 2 people, a double bed, a dining table for 2, and a 40-inch TV is available.
For telework, following items are installed in the room.
1. 21.5inch PC monitor
2. HDMI cable
3. Confortable desk mat
4. Multi plug
5. Wireless mouse
*other items shown on the photo are not installed (PC, smart phone and etc)
*brand for monitor and wireless mouse may differ from the photo
*the color of desk mat may differ from the photo

Consumer electronics include a gas range with 2 burners; microwave; tableware; 2 door refrigerator.etc. A hot-water toilet is on the next door to a large washbasin, the washing machine is available. The drying heater is attached to the bathroom and the laundry can be easily dried.

*There may be constructions in the neighborhood. Noise may occur if there are constructions in the neighborhood.

Area Guide:
Tokyo's historic "SUMO TOWN", classic Tokyo downtown with Sumo Wrestling stadium and Edo-Tokyo Museum. East of the Sumida River with of a variety of Japanese traditional restaurants (Ryotei).
Supermarket & Mall:
Supermarket, Convenience Store, and Drugstore, all you need for a comfortable life.
. Supermarket: SANTOKU 300m (on foot 4 min)
. Convenience store: LAWSON 100m (on foot 1 min)
. Drugstore: PAPASU 150m (on foot 2 min)

Access:
. 7 minutes from Ryogoku Station, TOEI subway Oedo Line.
. 12 minutes from Ryogoku Station, JR Yamanote Line

[2 plan for choose]
Monthly apartment plan:
This plan does not include regular cleaning.
Only the cleaning fee for moving out will be charged together with the rent.
Cleaning fee/only once
1K, ~22m2 20,000 yen
1K, 23~32m2 25,000 yen
1K/1LDK, 33~50m2 30,000 yen
2LDK, 50~65m2 40,000 yen
65m2~ 50,000 yen~
*Prices may vary depending on the property.

Service Apartment Plan:
The plan includes regular cleaning once a week. Towels and sheets are also changed during regular cleaning, so you can experience life like a hotel.
Moreover, there is also a merit that there is no moving out cleaning fee.
Regular cleaning fee/monthly
1K, ~25m2 50,000 yen
1K, 25~32m2 50,000 yen
1K/1LDK, 33~50m2 60,000 yen
2LDK, 50-65m2 70,000 yen
65m2~90,000 yen
*Prices may vary depending on the property.
Amenities
Room Menu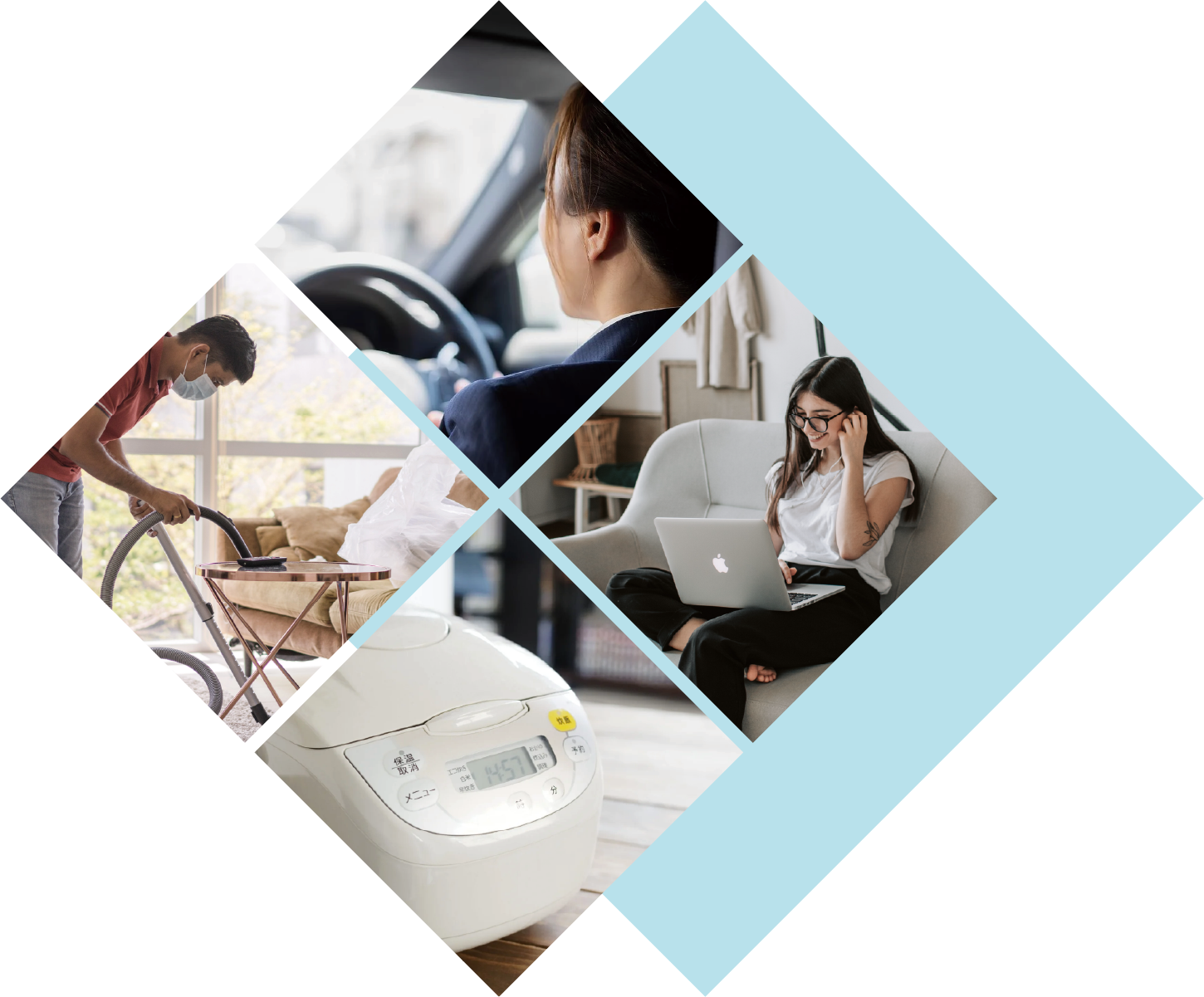 Enhance your stay experience by ordering additional services such as cleaning, airport transfer and printers from our Room menu
For just ¥25,000, you can get professional housekeeping services once every 2 week!
Rental rates
(Weekly Apartment) Telework Pro - G Ryogoku Studio Sky
Monthly apartment plan
No weekly cleaning
• Furnished apartment
• Free wifi
• Limited utilities - ¥15,000/month
• Move-out deep cleaning
Monthly apartment plan
No weekly cleaning
Serviced apartment plan
Include once times a week housekeeping with linen change
• Furnished apartment
• Free wifi
• Limited utilities - ¥15,000/month
Serviced apartment plan
Include once times a week housekeeping with linen change
Book other apartment types in the same building
Monthly apartment plan
No weekly cleaning
• Furnished apartment
• Free wifi
• Limited utilities - ¥15,000/month
• Move-out deep cleaning
Monthly apartment plan
No weekly cleaning
Serviced apartment plan
Include once times a week housekeeping with linen change
• Furnished apartment
• Free wifi
• Limited utilities - ¥15,000/month
Serviced apartment plan
Include once times a week housekeeping with linen change
Monthly apartment plan
No weekly cleaning
• Furnished apartment
• Free wifi
• Limited utilities - ¥15,000/month
• Move-out deep cleaning
Monthly apartment plan
No weekly cleaning
Serviced apartment plan
Include once times a week housekeeping with linen change
• Furnished apartment
• Free wifi
• Limited utilities - ¥15,000/month
Serviced apartment plan
Include once times a week housekeeping with linen change
Monthly apartment plan
No weekly cleaning
• Furnished apartment
• Free wifi
• Limited utilities - ¥15,000/month
• Move-out deep cleaning
Monthly apartment plan
No weekly cleaning
Serviced apartment plan
Include once times a week housekeeping with linen change
• Furnished apartment
• Free wifi
• Limited utilities - ¥15,000/month
Serviced apartment plan
Include once times a week housekeeping with linen change
Monthly apartment plan
No weekly cleaning
• Furnished apartment
• Free wifi
• Limited utilities - ¥15,000/month
• Move-out deep cleaning
Monthly apartment plan
No weekly cleaning
Serviced apartment plan
Include once times a week housekeeping with linen change
• Furnished apartment
• Free wifi
• Limited utilities - ¥15,000/month
Serviced apartment plan
Include once times a week housekeeping with linen change
Monthly apartment plan
No weekly cleaning
• Furnished apartment
• Free wifi
• Limited utilities - ¥15,000/month
• Move-out deep cleaning
Monthly apartment plan
No weekly cleaning
Serviced apartment plan
Include once times a week housekeeping with linen change
• Furnished apartment
• Free wifi
• Limited utilities - ¥15,000/month
Serviced apartment plan
Include once times a week housekeeping with linen change
Monthly apartment plan
No weekly cleaning
• Furnished apartment
• Free wifi
• Limited utilities - ¥15,000/month
• Move-out deep cleaning
Monthly apartment plan
No weekly cleaning
Serviced apartment plan
Include once times a week housekeeping with linen change
• Furnished apartment
• Free wifi
• Limited utilities - ¥15,000/month
Serviced apartment plan
Include once times a week housekeeping with linen change
Monthly apartment plan
No weekly cleaning
• Furnished apartment
• Free wifi
• Limited utilities - ¥15,000/month
• Move-out deep cleaning
Monthly apartment plan
No weekly cleaning
Serviced apartment plan
Include once times a week housekeeping with linen change
• Furnished apartment
• Free wifi
• Limited utilities - ¥15,000/month
Serviced apartment plan
Include once times a week housekeeping with linen change
Monthly apartment plan
No weekly cleaning
• Furnished apartment
• Free wifi
• Limited utilities - ¥15,000/month
• Move-out deep cleaning
Monthly apartment plan
No weekly cleaning
Rent
¥178,000
Refundable Deposit
¥178,000
Exit cleaning fee
¥25,000
Service fee
¥11,430
---
Due today
¥392,430
Serviced apartment plan
Include once times a week housekeeping with linen change
• Furnished apartment
• Free wifi
• Limited utilities - ¥15,000/month
Serviced apartment plan
Include once times a week housekeeping with linen change
Rent
¥228,000
Refundable Deposit
¥178,000
Service fee
¥12,180
---
Due today
¥418,180
Reviews
Related Serviced Apartments
Related Residential Rental
---
Min stay: 4 nights
Limited utilities - ¥15,000/month
---