SL Asakusa East 1BR A 503
Min stay: 30 nights
Limited utilities - ¥30,000/month
Overview
Honjo-Azumabashi is located in the eastern part of Tokyo. You can access the Asakusa Station area and Sky Tree on foot, and enjoy the beautiful scenery along the Sumida River.
Shinagawa Station, Haneda Airport, and Narita Airport are also accessible without changing trains.
From the apartment 5 mins to Honjo-azumabashiSt.
Wi-Fi and basic initial amenities are included.
The room consists of living room with kitchen, bathroom and restroom. The living room has a sofa and a TV.The bedroom has a double beds.
The kitchen has Gas Stove, microwave, toaster and refrigerator.
Other devices are iron set, vacuum cleaners and washing machine.
Laundry can be easily dried at the balcony.

* Utilities are included in the rent up to 1000 yen per

*There may be constructions in the neighborhood. Noise may occur if there are constructions in the neighborhood.

Supermarket & Mall:
■Supermarket: Maruetsu petit (3 min)
■Convenience store: Seven-11(2 min)
■Drug store: Drug Papasu (5 min)

Access:
■Tokyo Metro Asakusa Line, Honjo-azumabashi Station (5 min)
■Tokyo Metro Hanzomon Line, Oshiage Station (10 min)
■Tokyo Metro Ginza Line, Asakusa Station (15 min)
Amenities
Room Menu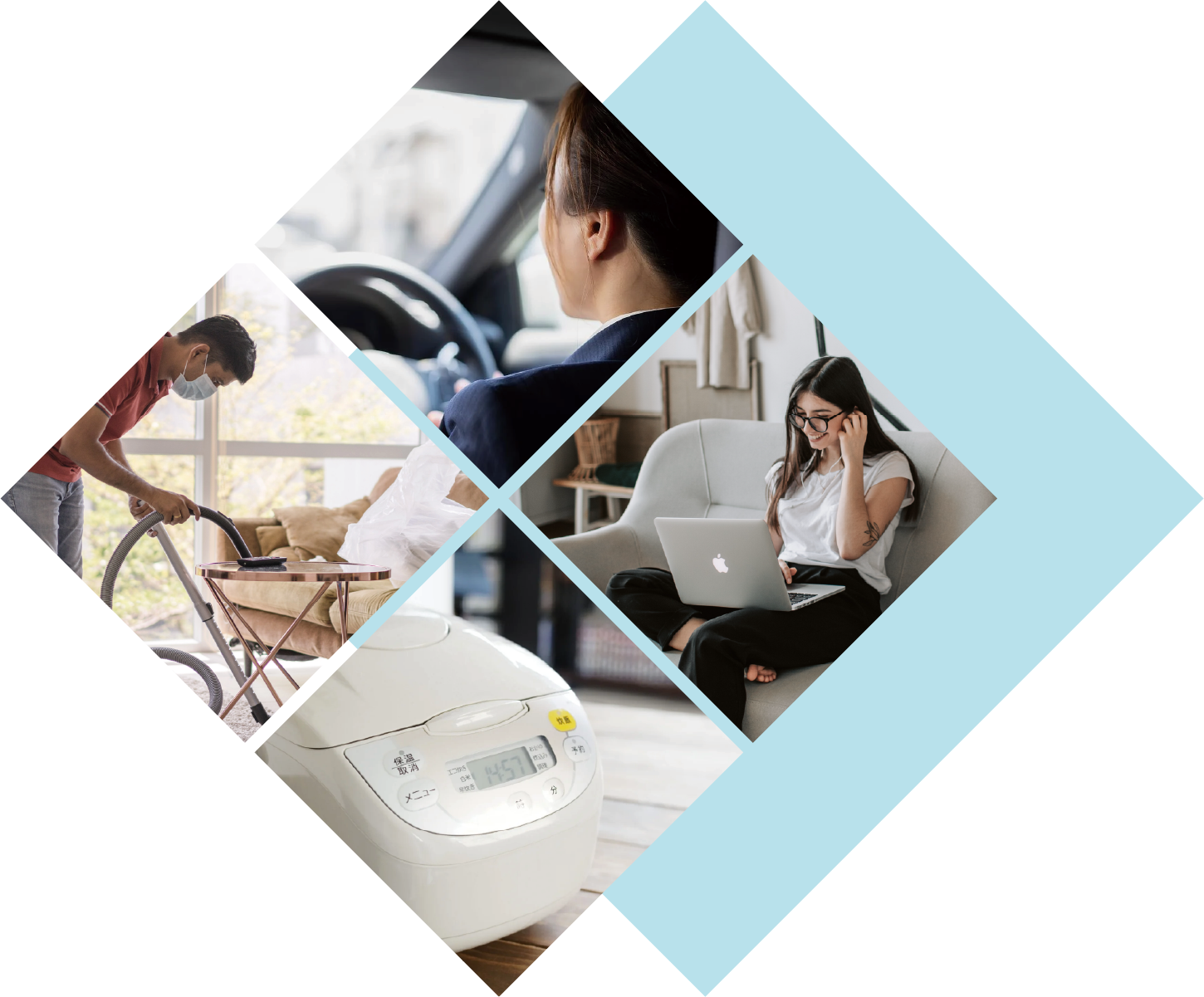 Enhance your stay experience by ordering additional services such as cleaning, airport transfer and printers from our Room menu
For just ¥25,000, you can get professional housekeeping services once every 2 week!
Rental rates
SL Asakusa East 1BR A 503
Availability last updated: 5 days ago
Monthly apartment plan
No weekly cleaning
• Furnished apartment
• Free WIFI
• Limited utilities - ¥30,000/month
• Move-out deep cleaning
Monthly apartment plan
No weekly cleaning
Serviced apartment plan
No weekly cleaning
• Furnished apartment
• Free WIFI
• Limited utilities - ¥30,000/month
Serviced apartment plan
No weekly cleaning
Book other apartment types in the same building
Availability last updated: 5 days ago
Monthly apartment plan
No weekly cleaning
• Furnished apartment
• Free WIFI
• Limited utilities - ¥30,000/month
• Move-out deep cleaning
Monthly apartment plan
No weekly cleaning
Serviced apartment plan
No weekly cleaning
• Furnished apartment
• Free WIFI
• Limited utilities - ¥30,000/month
Serviced apartment plan
No weekly cleaning
Availability last updated: 5 days ago
Monthly apartment plan
No weekly cleaning
• Furnished apartment
• Free WIFI
• Limited utilities - ¥30,000/month
• Move-out deep cleaning
Monthly apartment plan
No weekly cleaning
Rent
¥345,000
Refundable Deposit
¥345,000
¥31,000
Consumption tax
¥3,100
---
Due today
¥724,100
Serviced apartment plan
No weekly cleaning
• Furnished apartment
• Free WIFI
• Limited utilities - ¥30,000/month
Serviced apartment plan
No weekly cleaning
Rent
¥377,000
Refundable Deposit
¥345,000
¥21,660
Consumption tax
¥5,366
---
Due today
¥749,026
Availability last updated: 5 days ago
Monthly apartment plan
No weekly cleaning
• Furnished apartment
• Free WIFI
• Limited utilities - ¥30,000/month
• Move-out deep cleaning
Monthly apartment plan
No weekly cleaning
Rent
¥345,000
Refundable Deposit
¥345,000
¥31,000
Consumption tax
¥3,100
---
Due today
¥724,100
Serviced apartment plan
Include daily housekeeping with linen change
• Furnished apartment
• Free WIFI
• Limited utilities - ¥30,000/month
Serviced apartment plan
Include daily housekeeping with linen change
Rent
¥377,000
Refundable Deposit
¥345,000
¥21,660
Consumption tax
¥5,366
---
Due today
¥749,026
Availability last updated: 5 days ago
Monthly apartment plan
No weekly cleaning
• Furnished apartment
• Free WIFI
• Limited utilities - ¥30,000/month
• Move-out deep cleaning
Monthly apartment plan
No weekly cleaning
Serviced apartment plan
No weekly cleaning
• Furnished apartment
• Free WIFI
• Limited utilities - ¥30,000/month
Serviced apartment plan
No weekly cleaning
Availability last updated: 5 days ago
Monthly apartment plan
No weekly cleaning
• Furnished apartment
• Free WIFI
• Limited utilities - ¥30,000/month
• Move-out deep cleaning
Monthly apartment plan
No weekly cleaning
Serviced apartment plan
No weekly cleaning
• Furnished apartment
• Free WIFI
• Limited utilities - ¥30,000/month
Serviced apartment plan
No weekly cleaning
Availability last updated: 5 days ago
Monthly apartment plan
No weekly cleaning
• Furnished apartment
• Free WIFI
• Limited utilities - ¥30,000/month
• Move-out deep cleaning
Monthly apartment plan
No weekly cleaning
Serviced apartment plan
No weekly cleaning
• Furnished apartment
• Free WIFI
• Limited utilities - ¥30,000/month
Serviced apartment plan
No weekly cleaning
Availability last updated: 5 days ago
Monthly apartment plan
No weekly cleaning
• Furnished apartment
• Free WIFI
• Limited utilities - ¥30,000/month
• Move-out deep cleaning
Monthly apartment plan
No weekly cleaning
Serviced apartment plan
No weekly cleaning
• Furnished apartment
• Free WIFI
• Limited utilities - ¥30,000/month
Serviced apartment plan
No weekly cleaning
Availability last updated: 5 days ago
Monthly apartment plan
No weekly cleaning
• Furnished apartment
• Free WIFI
• Limited utilities - ¥30,000/month
• Move-out deep cleaning
Monthly apartment plan
No weekly cleaning
Serviced apartment plan
No weekly cleaning
• Furnished apartment
• Free WIFI
• Limited utilities - ¥30,000/month
Serviced apartment plan
No weekly cleaning
Availability last updated: 5 days ago
Monthly apartment plan
No weekly cleaning
• Furnished apartment
• Free WIFI
• Limited utilities - ¥30,000/month
• Move-out deep cleaning
Monthly apartment plan
No weekly cleaning
Serviced apartment plan
No weekly cleaning
• Furnished apartment
• Free WIFI
• Limited utilities - ¥30,000/month
Serviced apartment plan
No weekly cleaning
Availability last updated: 5 days ago
Monthly apartment plan
No weekly cleaning
• Furnished apartment
• Free WIFI
• Limited utilities - ¥30,000/month
• Move-out deep cleaning
Monthly apartment plan
No weekly cleaning
Serviced apartment plan
No weekly cleaning
• Furnished apartment
• Free WIFI
• Limited utilities - ¥30,000/month
Serviced apartment plan
No weekly cleaning
Reviews
Related Serviced Apartments
Related Residential Rental
---
Min stay: 30 nights
Limited utilities - ¥30,000/month
---