Running is one of the best ways to workout. Studies have shown both physical and psychological benefits that come from pounding the pavement, but it can be difficult to find a decent place and/or time in busy Tokyo.
We at MetroResidences believe that a healthy person is a happy person, and have compiled this guide to running in Tokyo to help you find the best route for yourself!
Running in Tokyo – Beating the Crowds
The real adversary of running in Tokyo is the crowds. Over 15 million people live on this patch of land we call home and trying to get your exercise while everyone else is trying to get your work is not only unwise but possibly dangerous.
We recommend running either early in the morning or late at night, especially when summer hits and high temps make it too dangerous to run in the afternoon.
Is it safe to run in Tokyo at night?
Running in Tokyo at night is surprisingly safe. Tokyo consistently tops lists of the safest cities in the world, and I've seen many young women (including myself) run late at night. Of course, we would never say something is 100% safe, and everyone should still be aware when running at night.
See if you can't find a group or a partner to run with, and if you are running by yourself at night, stay on main roads where there's lots of foot and car traffic if possible.
Where do people run in Tokyo?
Best Designated Trails
You can also beat the crowds anytime by using trails designated for running, jogging, or walking. These trails tend to be attached to natural sites, like parks or shrines. This gives you the added bonus of a visual oasis with your runner's high, a welcome respite from the grey and black of Tokyo skyscrapers. Some of our favorite trails are as follows:
Imperial Palace Running Route:
This is probably the most famous of all the running routes in Tokyo. The grounds of the imperial palace are surrounded by cobblestone paths, and is one of the few true loop trails in Tokyo, with no traffic lights to impede your way.
Start at the Sakuradamon gate and jog past carefully sculpted gardens and long stretches of grass, or take a peek at the British Embassy directly across the way. Several groups of runners use this as their basic stomping grounds, and even some marathon champions can be seen jogging along this well-worn trail.
Accessible from Tokyo Station, Otemachi, and several other stations, this is a great place to go for those living in Central Tokyo.
Arakawa River Trail: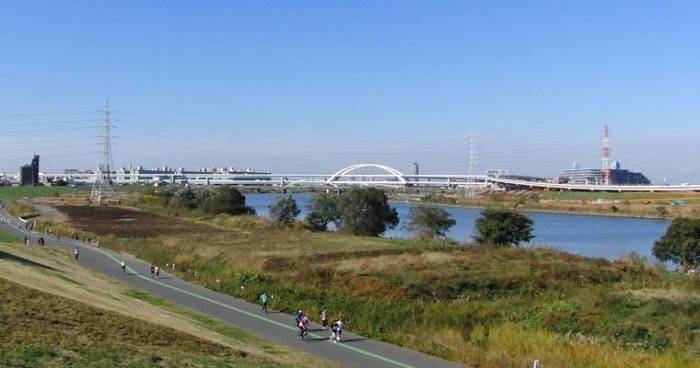 The Arakawa River Trail is well-loved by long-distance runners, as you can head over twenty miles in one direction. The Arakawa River is long and wide, and the trail runs alongside as it snakes through downtown Tokyo and stretches westward.
This trail also allows cyclists, so keep your eyes peeled. You can access the trail from various points along the river, but this trail mostly runs outside of the main Tokyo area.
This is a popular trail for families– bring your kiddo along to bike in front of you, and watch your time increase as you run to keep up!
Meguro River Running Route:
The Meguro River Running Route is especially gorgeous in the spring and summer when the cherry trees that line the river are in bloom. At these times, you should try to only hit the trail in the early morning or late night, since the pedestrian trail suddenly fills with people around hanami.
This trail is about 3.5km in length, running along the river from Ikejiri-Ohashi station to Meguro Station. Since it's a little shorter, it's better for casual runners looking for a quiet neighborhood spot to let off some steam.
This trail is relatively smaller compared to the wide streets of the Arakawa River or the Imperial Palace, and trails through several quiet neighborhoods.
Tokyo Bay Running Route:
If you enjoy a seaside run, there's no better place than Tokyo Bay. Odaiba is an artificial island built in the heart of Tokyo Bay, with various movie theatres, amusement parks, and shopping malls in the center. There are designated courses of both 5km and 7km lengths, taking you along the coast of Odaiba Seaside Park and back.
If you're looking for an even more memorable trip, you can run from the park across Rainbow Bridge, one of the most iconic landmarks in the bay. This is such a popular running route that some hotels offer locker and shower service just for runners, making it ideal for business people looking to go straight after work and let off some steam (while taking in some of the best views of Tokyo).
You can access this route from either Tokyo Teleport or Odaiba Station.
Yoyogi Park Running Route:
Yoyogi Park is one of the most iconic parks in Tokyo, located at the center of the fashion district just a few steps from Harajuku station. This vast park is thronging with people in the spring and summer, so be mindful of crowds– though there's enough space for you to run pretty much anytime except Hanami.
The dirt paths cover about a 3.2 km loop, so it's great for a weekend runner or someone just starting their journey, and an excellent city training ground for a trail run. Those looking for longer routes can continue on through Meiji Gaien and Akasaka Palace, about 11 km overall.
Keep in mind that while Meiji Gaien (the outer garden to Meiji Shrine) is open to runners, running through the actual grounds is forbidden and considered highly disrespectful to the sacred space. Not sure if you're in the shrine? Don't go down paths guarded by the tall, single beamed gates that line the grounds of the shrine.
Shinjuku Gyoen:
Shinjuku Gyoen does make some running lists and with a 200 yen entrance fee you can go running but personally I don't recommend it. While the park makes a lovely strolling ground, running in the park itself isn't well received by staff or other park goers.
Still stumped? You can also google, "find running routes near me", where smaller, neighborhood routes might be closer than you think. Lots of smaller parks also offer running routes, like Kiba Park, Shakuji Park, Uenon, and Tama River all offer great running trails.
Run Station and Clubs
Runbase Tokyo recently opened just a few blocks down from the Imperial Palace. Runners there can change their clothes, take showers, and store their belongings in lockers for a fee. You can rent clothes, towels, or shoes, so even if you forget them, you can make that training run!
In addition, they offer running groups at different scheduled times, to help keep yourself accountable to other runners.
Enjoy the camaraderie and exploration in the trail running Tokyo Meetup group! Each run takes place in a different area slightly outside of Tokyo. Make new friends and get off the beaten path by running with other trail running enthusiasts.
Namban Rengo is the most famous Tokyo Running club and has fostered many successful marathon runners. This is a serious group in that many of them compete in races, both amateur and professional, and while this is a free group, it's important to keep in mind their speed and dedication. This is a group largely made up of expats, and can be a great way to socialize outside of your work or home life.
[NOTE: Most group activities outlined in this section are currently on hold due to concerns about gathering in this time of COVID-19. At which time the government or club deems it safe, classes and groups are expected to resume as usual. Look on their individual websites for more information].
We at MetroResidences wish you a happy run, excellent views, and a tranquil mind. More about Expat life and Metroresidences follow us on Facebook, Instagram and Twitter!