Upon your return or entry to Japan, you will be required to take a coronavirus (COVID-19) test and spend a 14-day quarantine, in a dedicated facility.
With all that time on your hands, we'll get into the ins and outs of what you can and cannot do. In this article we'll explore a handcrafted list of food options, shopping possibilities, when you can head out and how to spend your next two weeks!
The latest Quarantine rules 2021
We've collated the latest 2021 guidelines from the Ministry of Health, Labor and Welfare.
* Foreigners who have stayed in "refused countries / regions" within 14 days before landing in Japan will be denied entry to Japan for the time being unless there are "special reasons". (Ministry of Foreign Affairs: Countries / regions subject to landing refusal)
The following guidelines are for those entering Japan.
Rules for returning to Japan
When entering Japan, all nationalities, including Japanese, are required to adhere to the following three requirements.
● For 14 days from the day after the test sample collection date, incoming travellers are required to stay in a dedicated facility prepared by the quarantine director (* explained in the section "What is the waiting place for quarantine for 14 days" below).
● Secure a means to commute from the arriving airport to the place of stay without using public transportation.
● Register the place of stay after entering Japan and transportation from the airport, etc. at the quarantine station.
In addition to the above, it is now necessary for all people to submit a "negative" test certificate obtained before travel. (Decision on January 8, 2021 Ministry of Foreign Affairs: Strengthening quarantine during the state of emergency declaration in some area in Japan)
● It is necessary to submit the "test certificate within 72 hours * before departure" to the quarantine station (* time from sample collection to the departure time of the scheduled flight)
If you are unable to provide the certification: You will be required to wait only at the accommodations secured by the quarantine station.
Even if the test result is negative, you will be required to quarantine yourself.
Japanese returnees from the United Kingdom and South Africa are only required to wait for three days at accommodations secured by the quarantine station, even if they submit a pre-departure inspection certificate. After 3 days, even if the test is negative again, quarantine will be required until 14 days have passed. (Ministry of Health, Labor and Welfare: New measures related to border measures)
Caution
– The "place designated by the quarantine station director" needs to be arranged by yourself (at your own expense).
– "Accommodation secured by the quarantine station" is not a place you have arranged yourself, but follows the instructions of the quarantine officer. If you won't you may be subject to the Quarantine law.
If the coronavirus test is positive
If your test is positive, you will not be able to move to your planned place of stay. You are advised to await instructions from the quarantine officer.
We will be needed to check whether treatment at the hospital is necessary. Asymptomatic or mild patients may be treated outside the hospital (home or specific facility) at the discretion of the doctor. You will be instructed by the government regarding the location.
The accommodation you booked yourself will be canceled, so be sure to check the cancellation policy in advance in case of emergency. No one can certificate the cost.
How to count 14 days of voluntary quarantine agency
The two weeks of self quarantine starts 14 days after the sample collection date (entry date). The date of arrival is not counted.
Since you will be inspected at the airport when you enter Japan, there will be no inspection days, and the first day from the next day will be 14 days.
How to spend your time in a dedicated facility (hotel or monthly apartment etc.)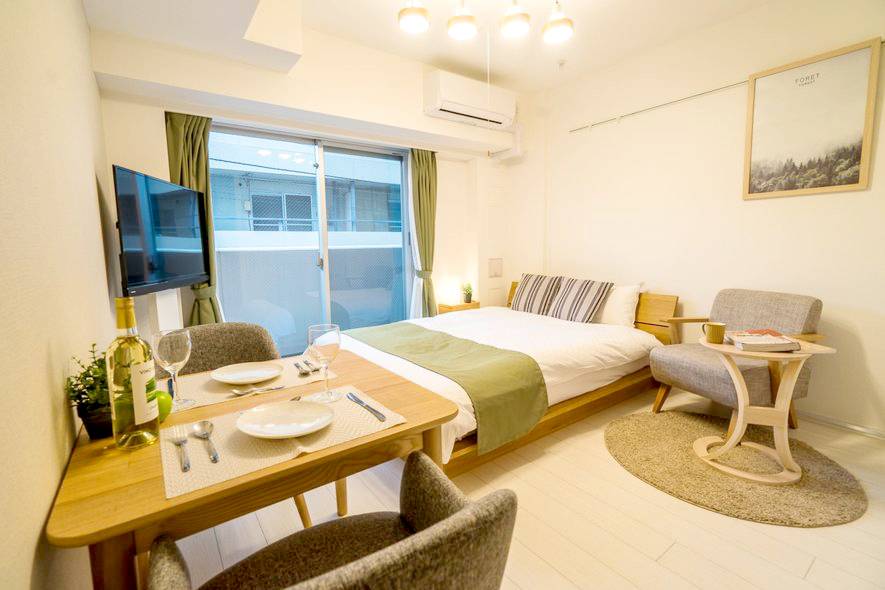 What is a 14-day quarantine waiting area?
Example of quarantine stay place:
Hotel
Weekly/Monthly apartment
home
Relatives' house
Friend's house
Company housing
Etc.
You are responsible for the cost of staying in the self quarantine.
Accommodation where facilities such as toilets and baths need to be shared by multiple people are not eligible as quarantine places.
Example)
Dormitory
guest house
share-house
Even hotels that have announced that they will accept quarantine guests are often prohibited to use such in-house facilities as gyms and restaurants. When booking a hotel, we would advise you to check the hotel regulations first.
Hotels that accept quarantine-stays are instructed to avoid contact as much as possible.
Example)
・ None or reduced bedsheet-changes or room cleaning
・ Towels and complimentary toiletries will be delivered in front of the room
How to commute to a quarantine accommodation?
With the requirement to avoid using public transportation, you are essentially void from transferring to domestic flights, trains, buses, taxis, etc.
You will need to secure your own means of transportation from the airport to the self-quarantine facility. Use Airport limousines, private cars, rental cars, taxis that are admitted by the government, etc. to avoid contact with the general public.
Can I go out during the quarantine period? What are the restrictions?
How much are you allowed to 'go out' during self-quarantine?
The following points are required during the self-quarantine period:
・ Do not go out unnecessarily
・ Do not contact people as much as possible
・ Avoid using public transportation
Though self-quarantine for new coronavirus infections is considered a "request" and not a "compulsory" condition in Japan.
It is not forbidden to go for a walk outside as a form of exercise. However, it is advisable to walk in less crowded areas early in the morning or at night when there are as few people around as possible.
What should I go shopping for during the period of quarantine?
For shopping during the self-quarantine, it is recommended that you use mail order or ask for a shopping agent and have it placed at the front door.
It is not prohibited to go shopping at the supermarket, so you are allowed to go out for daily necessities such as food and everyday items.
When you go out, wear a mask, sanitize your hands, and time your visits to places with smaller crowds. Make payments in cashless payments in the shortest possible time to avoid contact with people as much as possible.
We know it's difficult to buy two weeks' worth of food at once, so here's a tip: get your weekly groceries from online supermarkets, instead.
Checkout these convenient online supermarkets for voluntary isolation in the Tokyo area.
・ Aeon Online Supermarket: Delivery from groceries / daily necessities to pharmaceutical products. Admission fee No annual membership fee. Earn WAON points.
・ Ito-Yokado Online Supermarket: Thorough temperature control for fixed delivery. Earn nanaco points.
・ Rakuten Seiyu Online Supermarket: No admission fee, free shipping for a certain amount or more. You can collect and use Rakuten points.
・ Daiei Online Supermarket: Delivered in as little as 3 hours from your local Daiei store. Earn WAON points.
・ Tokyu Store Online Supermarket: Free shipping on orders with designated card payment of 3,900 yen or more (other cards of 5,000 yen or more). Earn TOKYU points.
Can I eat out during my quarantine period?
Mealtime is arguably the most important part of everyday life. Ideally, heading out to restaurants and cafes to change your choice of meals daily would be great. Unfortunately, however, it has been found that the risk of infection increases in places where droplets can easily fly.
Since the purpose of the self-quarantine period is to avoid contact with people, it is naturally requested to avoid eating out at restaurants that are closed spaces. Currently It's best to avoid eating out alone. Explore take out options or even deliver the meals to your room. Hey, here's an idea; cook your own meals!
Even if your test is negative, you may have a "false negative". So see out the 14 days and look forward to eating out after a period of quarantine.
How do you choose your meals during the quarantine period?
Three meals for 14 days, equates to a total of 42 meals, which is quite a lot. If you are staying at a hotel, where you won't be able to cook, you'll end up having to buy food all the time. If it is 2 weeks, the cost will be a heavy burden.
If you are lazy to cook by yourself, it may be fine, but if possible, we recommend you to enjoy a good balanced meal to some extent. There is data that nearly 70% of people have more opportunities to cook because of the pandemic.
If you are staying at a monthly apartment, you can enjoy popular restaurant-grade dishes without going out by using the home delivery service and preparing your own meals. Even if you can't eat out, it may be a good idea to relieve your tiredness with a little luxurious room meal.
You can choose from many restaurants and restaurants in the Tokyo area, so why not try it during the self-restraint period?
・ Demaekan: No. 1 in the number of home delivery and delivery stores in Japan, with more than 45,000 stores nationwide.
・ Rakuten delivery: Delivered in a minimum of 20 minutes. There are online benefits, and Rakuten points can be earned.
・D delivery: There is a sorting function based on "short waiting time". Docomo points will be accumulated.
・ Uber Eats: Supports small shops to famous luxury shops. Food delivery service from the United States.
Related article: Food delivery Services in Tokyo
If you will stay in Tokyo, there will be a lot of options
At MetroResidences, we offer a "14-day weekly apartment stay package with airport transfer" that you can use as a quarantine stay.
Airport transfer
Furniture home appliances apartment
Utilities + WiFi included
No cancellation fee until the 1 day before check in (Limited apartment only)
Easy booking online
Since you can't enjoy going out, how comfortable you can spend the 14-day self-restraint period, is the key to avoiding stress!
We recommend our monthly apartment where you can spend two weeks as close to normalcy as possible. Laundry or cleaning for self-quarantine guests may not be accepted in hotels, but monthly apartments have a washing machine or cleaning items in the room and can be used freely.
It is fully equipped with the necessary equipment for daily life and has an internet where you can start working immediately. We also have telework-rooms recommended for those who want to concentrate on their work. (A room where working remotely is comfortable! A home office where you can work more efficiently.)
In addition, MetroResidences monthly apartments offer rental options for indoor exercising equipment so that you can stay healthy in your room even if you can't go out. We also have popular games and Chromecast rentals that you can enjoy in your free time.
All reservations are completed online, and after check-in you can comfortably spend your work or private time in a room with internet access.
The rooms are equipped with all the furniture you need for your daily life. You can cook and wash your clothes freely, reduce the number of outings, and help to reduce the stress during the self-quarantine period.
>> Weekly apartment of Metro Residence for staying in Tokyo from 1 week
Contact us from here
・ Email [email protected]
・ Telephone 03-4405-5226
~ Other recommended articles ~
◇ Follow Metro Residences ◇ We provide the latest information on serviced apartments and great deals on Facebook, Instagram, and Twitter of MetroResidences. Please follow us!
MetroResidences also operates a Facebook community "Return To Japan" for people returning to Japan from overseas.
"How long have you waited for the PCR test?" "What services do you recommend for eating or traveling?" etc…
If you are looking for useful information based on individual experience, please refer to it.