Why is Shinagawa a great place to live in Tokyo?
Shinagawa is full of hidden gems, and luckily for you, we have them uncovered here!
Meguro liver flows between Kita-Shinagawa and Minami-Shinagawa in Shinagawa-ku, and currently pours into Tokyo Bay on the south side of Tennozu Isle in Higashi-Shinagawa.
Shinagawa is an often overlooked area of Tokyo, after years of being primarily for business ventures. Stretching from central downtown to Tokyo Bay, this area is somewhere for families and business people to work, play, and live. Where better to be than at the heart of the action?
There are many corporations with headquarters in Shinagawa: Sega, Lawson, and Bandai Namco all claim Shinagawa as their postcode. Shinagawa area apartments tend to be newer and highly functional, with many short-term apartments. Shinagawa is really the perfect location for the person on the go who prefers convenience and proximity overall.
What is Shinagawa, Tokyo known for?
In the last two decades, Shinagawa has revitalized itself as a place to go on weekends as well, starting with the beautiful Shinagawa Aquarium. This giant aquarium has walk-through tubes, educational programs, and many exhibits. Even more impressive is the dolphin show, which combines Laser LEDs, projection mapping, and music with the talented dolphins swimming in the pool below.
Shinagawa is also home to several beautiful green spaces, including Rinshinomori Park and Gotenyama Garden. Oi Racetrack also has live horse races, if you're looking for an unusual activity to do on a weekend.
Just on the other side of the ward is Tennozu Isle, where you can watch the sunset over Tokyo Bay.
Shinagawa shopping, eating, nightlife
Shinagawa's status as a business hub means there are lots of inexpensive restaurants with quality lunch deals.
There are also, oddly, several outposts of Western chains– T.G.I Friday's and Outback both have their flagships in Shinagawa. Being the buffer between high-end Minato-ku and Tokyo Bay means there's lots of fresh seafood, and the cheaper rents mean many restaurants can afford to go out on a limb for unique dishes.
Shinagawa is also home to the city's biggest flea market. While sometimes full of trinkets and junk, there are often incredible finds hidden amongst the racks. Check the stall for secondhand kimonos and Japanese china, as often these items are often so common as to be sold for a low price just to get them off the shelves.
If you want to experience nightlife like the average Japanese salaryman, Shinagawa is one of the last outposts of the classics. Hostess bars and snack clubs let out snatches of faint karaoke through the windows, and it's not uncommon to see a group of young professionals having a quick drink on the street.
Shinagawa station connection
Shinagawa station is one of the largest stations in Tokyo and can be a bit confusing and hectic during rush hour. It is primarily a JR hub, so those with the JR East Rail Pass will find it easy to travel around.
As one of the major Shinkansen stations in Tokyo, you can reach Nagoya, Kansai Area, and Kyushu by taking the "Nozomi", "Hikari", and "Kodama" trains.
Lines:
JR Tokaido Shinkansen
JR Yamanote Line
JR Keihin-Tōhoku Line
JR Tōkaidō Main Line
JR Yokosuka Line
Keikyū Main Line
Joban Line (via the Ueno-Tokyo Line)
Access:
Shibuya – 26 minutes by Yamanote Line
Shinjuku – 33 minutes by Yamanote Line
Roppongi – 33 minutes by Keihin Tohoku and Toei Oedo Line
Ginza – 31 minutes by Keihin Tohoku by Yamanote Line
Access to Haneda Airport – 29 minutes by Keihin Tohoku and Keikyu Main Line
Access to Narita Airport – 1 hour 21 minutes by Keihin-Tohoku Line and Narita Express
Why serviced apartments are recommended?
Moving to Tokyo, one of your first concerns is probably regarding a place to live. One of the easiest ways to find one is probably by using a traditional hotel which tends to be often costly.
We, therefore, propose the usage of a Serviced Apartments due to its more affordable prices with the other benefits summarised below;

Fully equipped with furniture and daily electronic devices.
No upfront cost of renting (Most Real Estate Agencies in Japan tend to charge initial costs before moving into an apartment).
Often provide concierge services like hotels.
Routine housekeeping services.
All-inclusive rent (Utility and internet fees are all included in the rent)
A Guarantor or a Rental Guarantor is not required.

Overall, Serviced Apartments are a smart and relatively cheaper way to live in Tokyo.
Best serviced apartments in Shinagawa Tokyo
While there are many apartments for rent in Shinagawa, we believe firmly that we have some of the best of serviced apartments.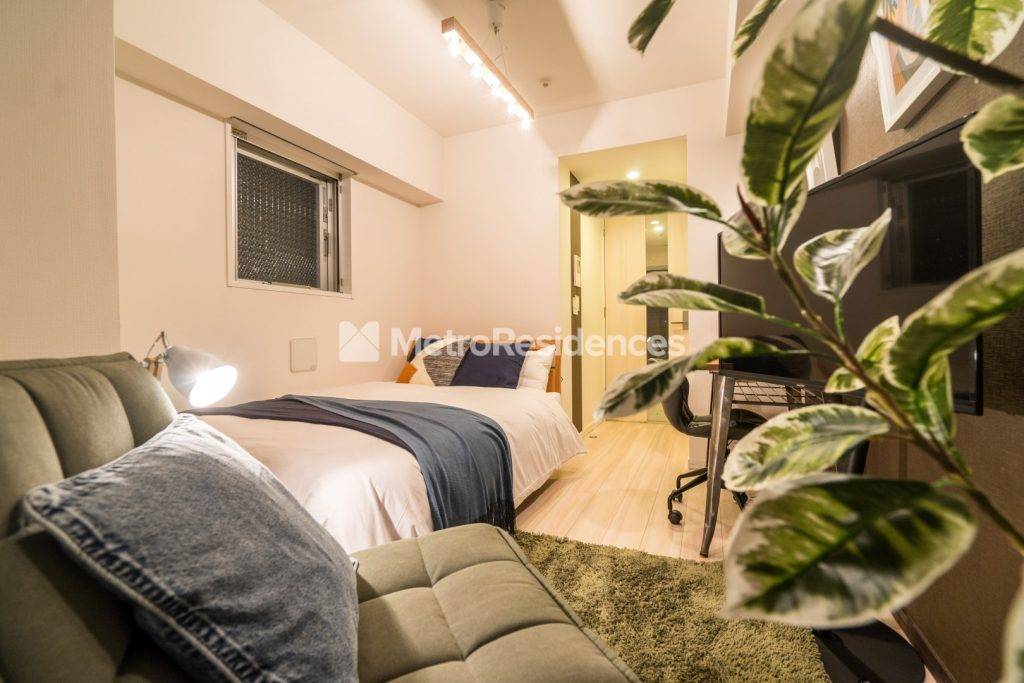 Galicia Shinagawa Studio 601
This studio is great for a single person looking for a quaint and tidy space to rest their head. Fully furnished, this oasis is just steps away from Gongenyama Park for tranquil walks during the golden hour.
Even better, it's just an eleven-minute walk from Shinagawa station and a 4-minute walk from Kita-Shinagawa station, a local stop on the Keihin Kyuko Line.
Wi-fi is also included for your surfing pleasure! Find a map, prices, more details here.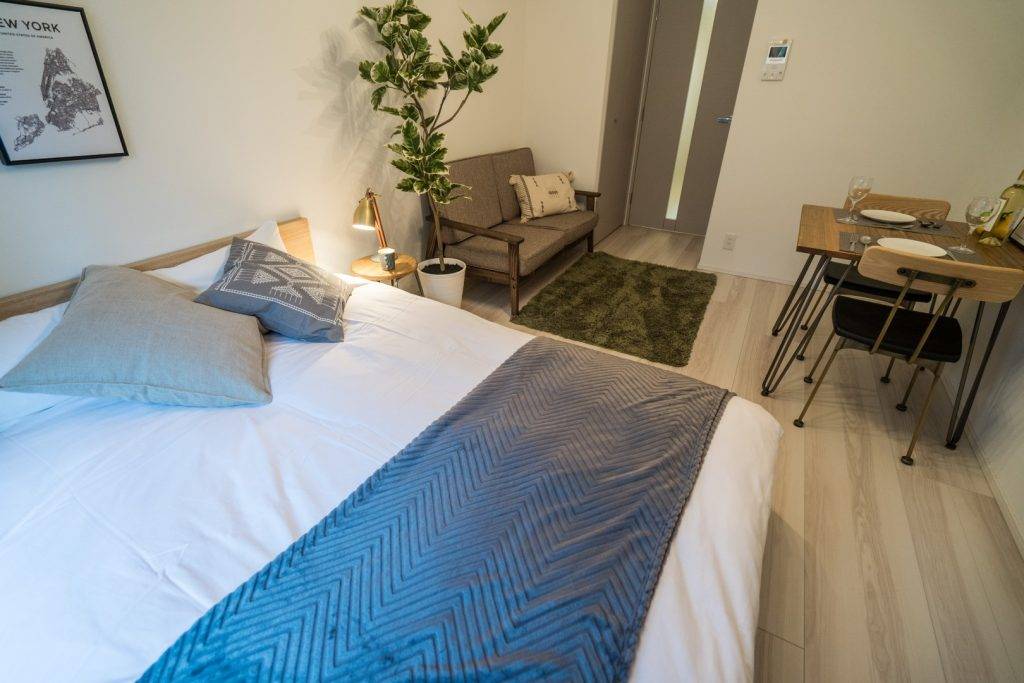 Galicia Kamimeguro Studio 106
Go just a little north of Shinagawa and you end up in Meguro, another neighborhood famous around Tokyo. Those looking for something a little more refined in their surroundings will love the chic yet quiet streets, and the 8-minute walk to Yutenji station is just enough to clear your head.
This apartment comes with a fully equipped kitchen and high-speed internet capabilities. Find more details here.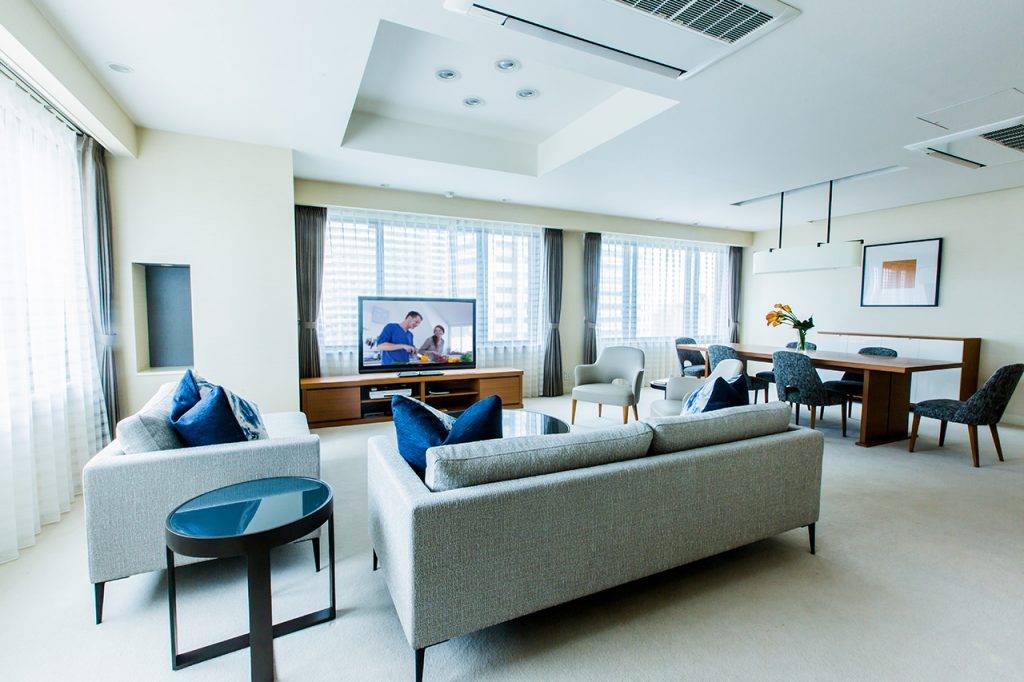 Somerset Shinagawa Tokyo 3 Bedroom Penthouse
This size and location are extremely unusual in Tokyo, so grab this monthly apartment in Shinagawa while you can! Part of our most exclusive residential area yet, this penthouse is lovingly outfitted in retro homage style while still including the amenities that this level of living calls standard.
Enjoy the full fitness room in the building as well as the rooftop balcony.
The spacious living and dining areas contain a top-of-the-line home entertainment system. A furnished apartment in Shinagawa doesn't get any better than this! Find more details here.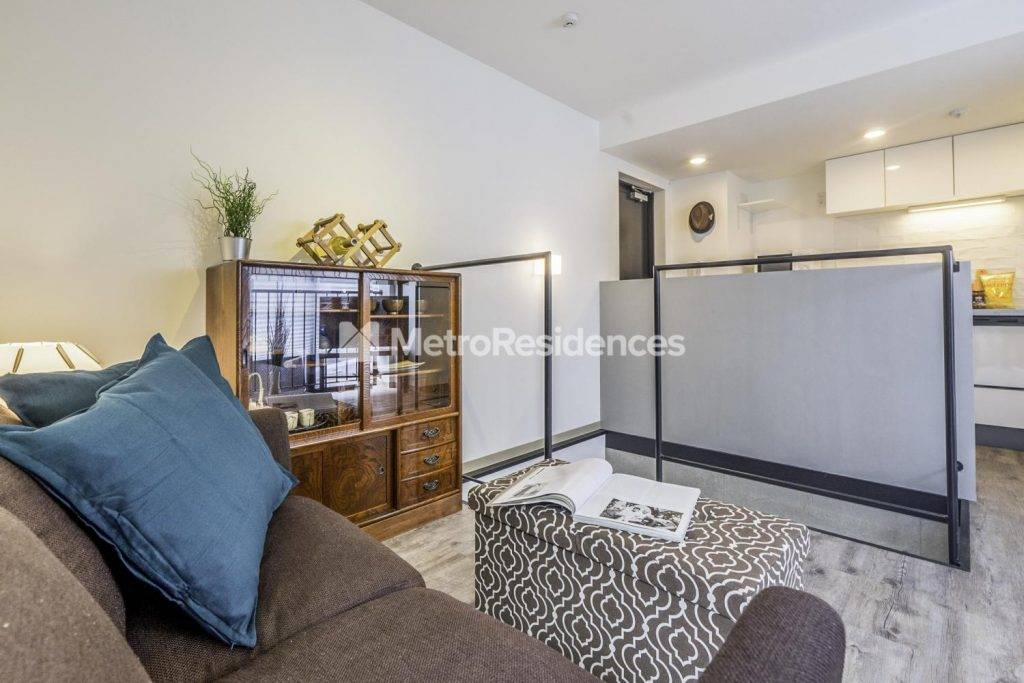 Nakameguro/Yutenji Loft Apartment 1br B
This sweet designer loft apartment is also an incredible find. With living and dining on the top floor and the bedroom down the stairs, this is the exact meeting point of economy and style.
Located in a quiet residential area a few neighborhoods north of Shinagawa proper, this is an amazing space for a couple or young family. The queen size bed has ample room for two, and the specially designed skylights allow for ample natural light. Find more details here.
Related articles Near Shinagawa Area:
Best Serviced Apartments in Shibuya
Best Serviced Apartments in Meguro
Summary
While Shinagawa may not be as new and sparkly as Shibuya and Harajuku, it makes up for it in sheer activity alone! I personally highly recommend renting an apartment in Shinagawa, especially if you're worried about rush hour.
Shinagawa features include:
・A main station on the Yamanote Line means easy to access anywhere
・Varied culture from neighborhood to neighborhood
・Weekend activities are galore!
There are many benefits to having fully serviced apartments. With MetroResidences serviced apartments, you're guaranteed:
・All-inclusive rent (Fully furnished, daily electronic devices, utility and WiFi fees)
・No upfront costs! A Guarantor/Rental Guarantor is NOT required to rent with us!
・Routine housekeeping services (with several plans to suit your needs).
If you are looking for more information about serviced apartments or monthly mansions in Tokyo, MetroResidences is here to make sure your living situation is convenient, safe, and easy.
You can follow us on Facebook, Instagram, and Twitter for blog updates and information about living in Japan!