Primarily a residential area, the Meguro ward is also home to some of the most beautiful spaces in Tokyo. The Meguro River is named for this special ward, and this postcode is well-loved by residents and visitors alike for its small, trendy restaurants and picturesque neighborhoods.
This is a wonderful place for those looking for an oasis of refinement with an enviable postcode and chic personality.
Why is Meguro a good place to live in Tokyo?
With 15 embassies located throughout the ward, the Meguro area is one of the most foreigner-friendly parts of Tokyo. Westerners have been in this area for some time, meaning most foreigners won't even get a second glance– a balm for sometimes isolating and othering city.
This is also a very safe area of Tokyo, and with Komaba Park also located in Meguro City, there's lots of space for kids to frolic. There are often kids sports meetings throughout the park, with options like cricket, tennis, and soccer.
In addition, its location right at the border of central Tokyo means it's close enough to party in Shibuya all night and still pay less than 2000 yen for a taxi home.
What is Meguro known for?
Meguro is beautiful any time of year, but cherry blossom season is where it really shines. Thousands flock to the river to see the beautiful blossoms hanging over the stone walls, with the gentle trickle of the river below.
The streets are lined with paper lanterns, making this a top spot for photos and romantic walks even deep into the night.
While a little lesser-known, there are several excellent art museums hidden throughout the ward, including the Photographic Art Museum, Folk Art and Craft Museum, and Parasitological museum. The Meguro Sky Garden is also a popular date spot for tourists and Japanese alike.
Meguro shopping, eating, and nightlife
This area has some really stunning small bars, restaurants and cafes. Take a stroll down the river path in Naka-meguro and find a plethora of options. With lots of Western and foreign influences, some of the top bistros in Japan are along this stretch of road. The most decorated pizza chef in Japan also has his restaurant home in Naka-meguro.
Small boutiques are the most common in Meguro. This is a health-conscious, sophisticated area that relies on quiet elegance to further its reputation in a uniquely Japanese fashion.
While not an area for those looking to be close to clubs and party hubs, those looking for a local spot to post up will find craft cocktails and beers galore.
Meguro station connections
Meguro station is also extremely convenient. With several lines both above and below ground, this is a great location for commuters.
Lines:
JR Yamanote Line
Tokyu Meguro Line
Tokyo Metro Namboku Line
Toei Mita Line
Naka-meguro Station is not quite as convenient but also has two vital lines running through it.
Lines:
Tōkyū Tōyoko Line
Tokyo Metro Hibiya Line
Access (from Meguro Station):
Shibuya – 5 minutes by Yamanote Line
Shinjuku – 11 minutes by Yamanote Line
Roppongi – 14 minutes by Hibiya and Yamanote Line
Ginza – 20 minutes by Mita Line
Haneda Airport – 23 minutes by Yamanote Line and Keikyu Line
Narita Airport – 1 hour and 10 minutes by Yamanote Line and JR Narita Express
Renting an apartment in Meguro may seem daunting, and with all these amenities it isn't for the faint of heart. We've curated a list of our favorite furnished apartments in Meguro here for your perusal, so you can shop around before you find your perfect match.
Why serviced apartments are recommended?
Moving to Tokyo, one of your first concerns is probably regarding a place to live. One of the easiest ways to find one is probably by using a traditional hotel which tends to be often costly.

We, therefore, propose the usage of a Serviced Apartments due to its more affordable prices with the other benefits summarised below;

Fully equipped with furniture and daily electronic devices.
No upfront cost of renting (Most Real Estate Agencies in Japan tend to charge initial costs before moving into an apartment).
Often provide concierge services like hotels.
Routine housekeeping services.
All-inclusive rent (Utility and internet fees are all included in the rent)
A Guarantor or a Rental Guarantor is not required.

Overall, Serviced Apartments are a smart and relatively cheaper way to live in Tokyo.
Best serviced apartments in Meguro Tokyo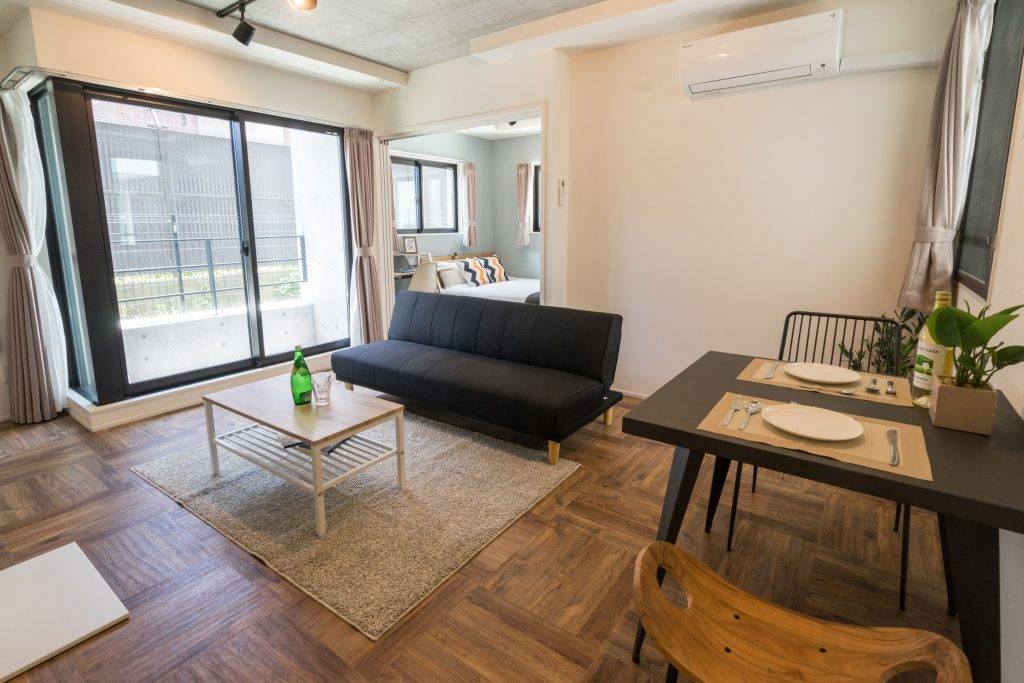 It's just 12 minutes to Meguro Station on the JR Yamanote Line and
within 9 minutes walk to the Fudomae Station on Tokyu Line.
.
It's easy access to center city.
All rooms are with furniture and home appliances, please relax like your own home.
40 sqm room is perfect for 2 people to stay.
Galicia Gotenyama (Gotanda/Osaki) Studio 404
Just a little east of Meguro proper in Gotanda is this sweet little studio. Perfect for one, this is an extremely convenient location, surrounded by convenience stores and restaurants. This cheerfully appointed room is less than seven minutes' walk from Gotanda station.
This apartment includes a gas stove, washing machine, and dryer function in the bathroom. This has incredibly easy access to the city center, and tourists with a JR pass will love the ease with which they can travel around the city.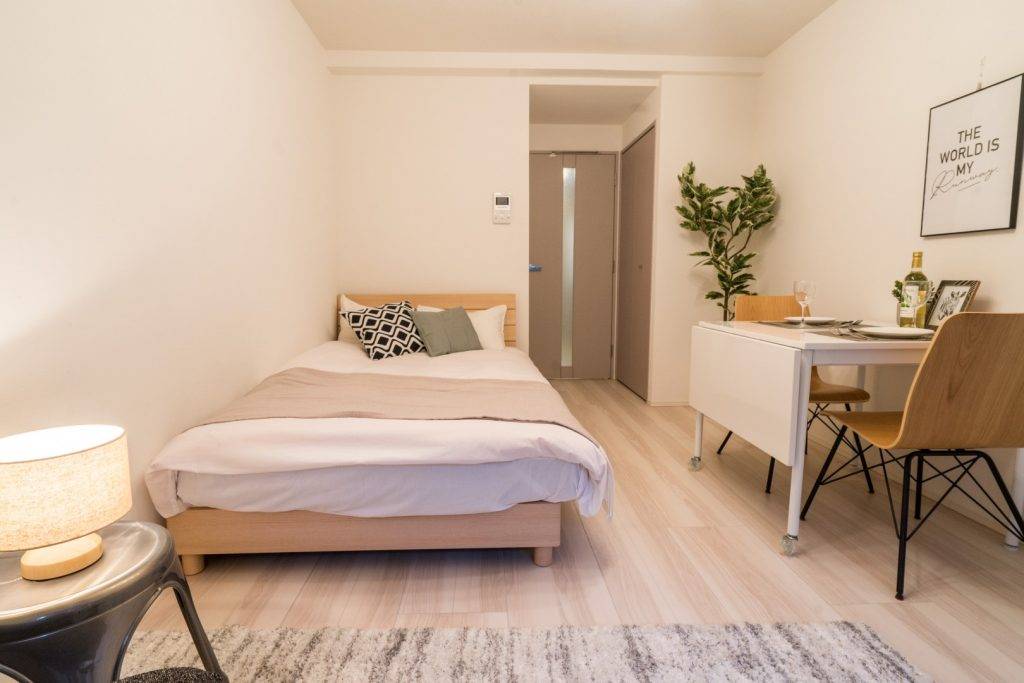 Galicia Kamimeguro Studio 107
Minimalists will love this sleek studio apartment. The semi-double bed and table make it great for those couples who don't mind sharing a small space, or for those anticipating company.
The leaf table even opens up, for those times when you want to invite a few work friends over for wine after the meeting.
Let your mind wander while you take a stroll to Naka-meguro in the evenings, and in the mornings be comforted that Yutenji station is only an 8-minute walk away.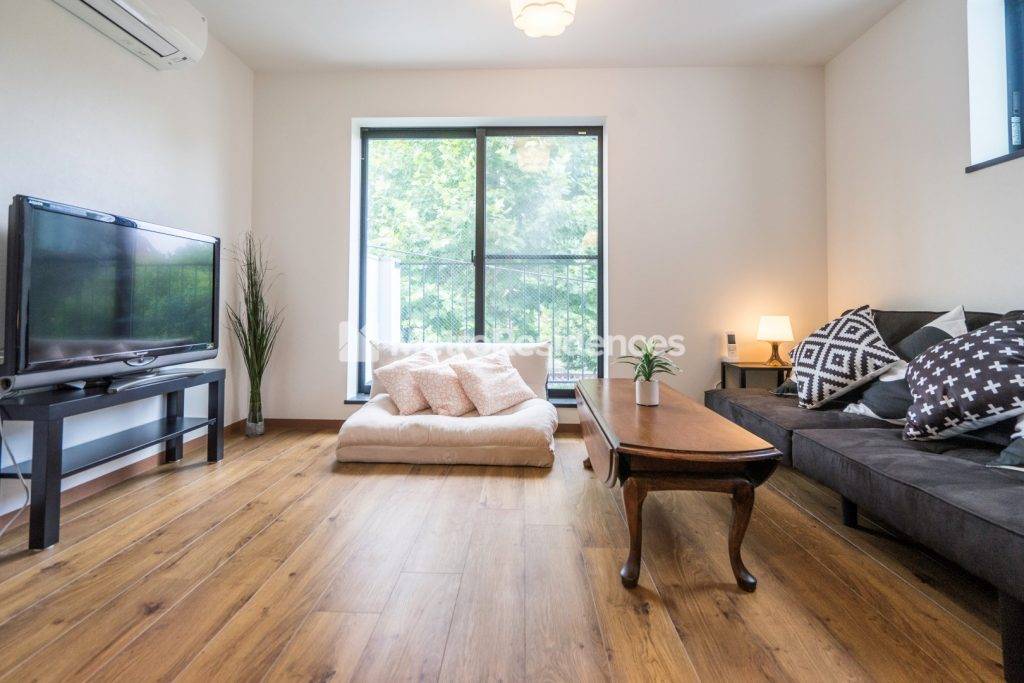 Nakameguro/Yutenji Co-Living Studio E1
This exciting new addition to our line up relies on co-living, without you having to find the roommates yourself.
Enjoy your own room with an ergonomic office chair, desk, and bed, as well as the beautifully appointed kitchen and living area. This is a great way to enjoy an unbeatable location without paying through the nose for it.
This also includes a queen-size bed, which is a rarity in Japan. All roommates are vetted by our system, so you can rest easy knowing they are driven and dedicated professionals like yourself–no scrubs here!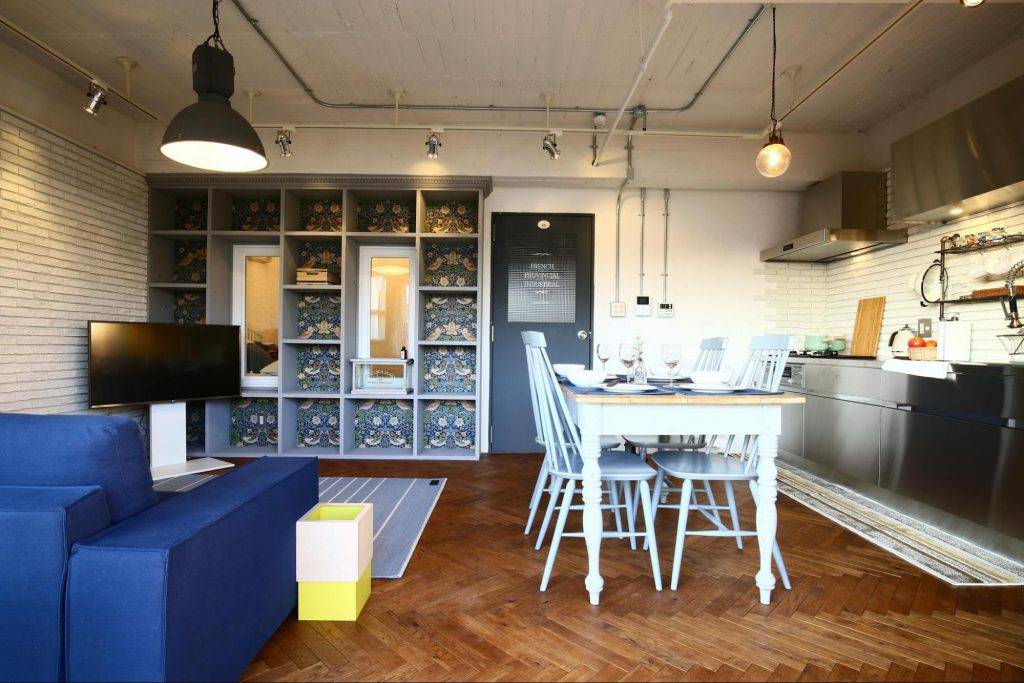 Elect Meguro
You would be honestly hard-pressed to find it's better among furnished apartments.
Meguro has often celebrated its french influence, and this spacious 2-room apartment has touches of that provincial country style with the meticulous precision of Japanese buildings. Live in tons of natural light and a stainless steel kitchen with counter space galore.
This is great for young families or those looking for a fully separate bedroom and living room. This is genuinely one of the prettiest apartments I've ever seen in Tokyo.
Summary
Truly, the Meguro neighborhood is the epitome of elegance. Understated and full of natural beauty, this is a wonderful residential neighborhood to live, work, and play.
Excellent features of Meguro area to live:
easy access to central Tokyo
chic restaurants and bars
walking, running, and biking paths across the river
For even more convenience, all of these apartments listed are serviced apartments. We know it can be hard to keep track of keeping things tidy when you suddenly move to a new country, and we hope our services can take some of that burden away.
Serviced apartment benefits include:
All-inclusive rent (Fully furnished, daily electronic devices, utility and WiFi fees)
Guarantor/Rental Guarantor, upfront cost of renting are NOT required
Routine housekeeping services
If you are looking for more information about serviced apartments or monthly mansions in Tokyo, MetroResidences is here to make sure your living situation is convenient, safe, and easy.
You can follow us on Facebook, Instagram, and Twitter for blog updates and information about living in Japan!