Ginza, Tokyo is one of the hottest destinations for travelers today. Wowed by the mix of ancient traditional architecture and modern novelties, thousands of people flock to this marvel of a city every year.
Tokyo has many hidden pockets of these juxtapositions– none more so than the ancient neighborhood of Ginza.
Here are area guides and recommended serviced apartments in Ginza for foreigners who are thinking of living in Ginza.
What makes Ginza Area a great place to live in?
Ginza has been a place to see and be seen for many years. Stretching from the southeast edge of the imperial palace grounds, this neighborhood was part of the original center of downtown Tokyo from the Edo period (1603 – 1868) and reconstructed after a great fire in Tokyo destroyed much of the area.
Some of those famous landmarks of Georgian and brick architecture still survive today, and combined with the sleek modern architecture, Chuo dory street has become the home of luxury shopping and Western boutiques, even as the home of Japanese theatre, the Kabuki-za, is at its heart.
Ginza has many flagship stores, department stores (Ginza Mitsukoshi, Matsuya…) but not only shopping district also well known for art galleries.
Some people may have heard about Sukiyabashi Jiro, one of the best sushi restaurants in the world, which is located in Ginza too.
Ginza station connection
Ginza station is conveniently located for commuting to the other business hubs of Shinbashi and Akasaka without sacrificing a little distance for your own sanity.
Ginza Line – Asakusa, Shibuya
Marunouchi Line – Shinjuku, Ikebukuro
Hibiya Line – Roppingi, Ueno
At MetroResidences, we believe a well-designed space of your own is vital to that sanity, and are happy to provide some spaces to help you live your best life in the heart of busy Tokyo. We've curated some spaces here on this list to show the best-serviced apartments in Ginza Tokyo to stay.
Best serviced/Monthly apartments in Ginza
This room based around the color white and navy. It is the smartest choice for everyone. With a work desk and chairs that are convenient for work, it is an ideal environment for those who want to stay calm indoors.
From the rooms on the 6th floor and above, you will have a beautiful view of the river. (The view is depending on the room) Convenience stores and supermarkets are also within walking distance.
It is very difficult to find a 2BR monthly apartment near Ginza / Tokyo Station.
Especially for families with children, a large space and eating space will be necessary.
Conveniently located a 4-minute walk from Kudanshita Station, this room was newly built in 2017 and has a beautiful exterior. A large kitchen equipped with 3 IH stoves has a rice cooker, microwave oven, as well as cooking utensils and tableware, and is recommended for those who cook.

Terrace.Ao Studio A Sp
This incredible studio only opened in September 2019. It's an ideal studio for two with a double bed, couch, and sweet little kitchen. It also includes a sliding door divider, to keep your own room private when receiving deliveries.
This apartment includes a balcony and contains several designers touches to help you live a modest and minimalist Tokyo lifestyle. Located just a four-minute walk from Mitsukoshi-Mae, this is also an ideal commute spot.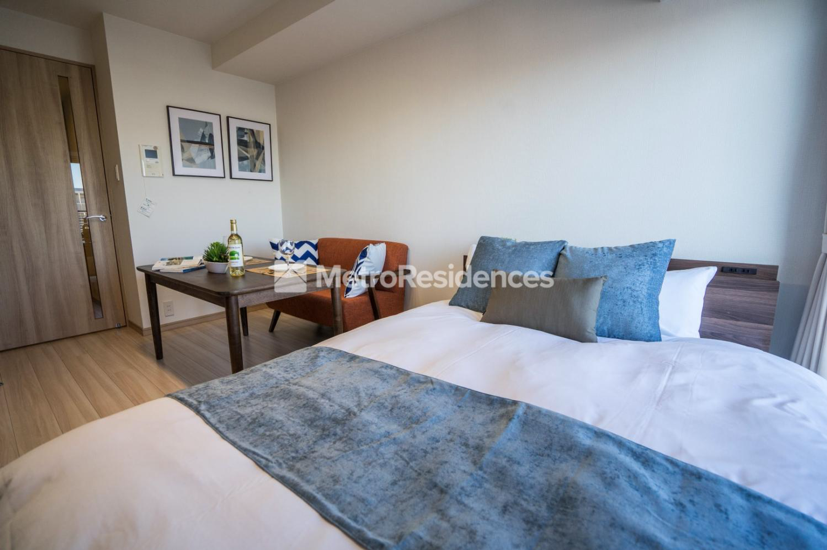 Genovia Higashi-Nihonbashi St. Front Studio
Look across historic downtown Tokyo from your balcony in this beautiful Higashi Nihonbashi studio!
Fully furnished and outfitted with everything you need, you'll feel safe with 24/7 security. Surrounded by convenience stores and supermarkets, learn how to cook in the small but functional kitchen, or use the train to head down to Asakusa for an evening tipple. After all, Higashi-Nihonbashi station is just a minute's walk away.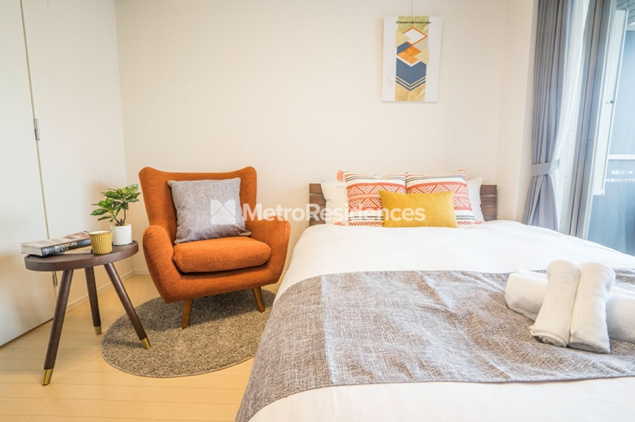 You certainly can't beat this one bedroom apartment for location. Just two minutes from Shintomicho station, you can also reach Tsukiji or Ginza with a just a little stroll. Surrounded by restaurants and convenience stores, business people with busy schedules will love the convenience of living right in the heart of downtown.
This apartment is located on the 8th floor and has a balcony with a gorgeous view across the city. Cook happily in this cozy kitchen with a beautifully designed surface.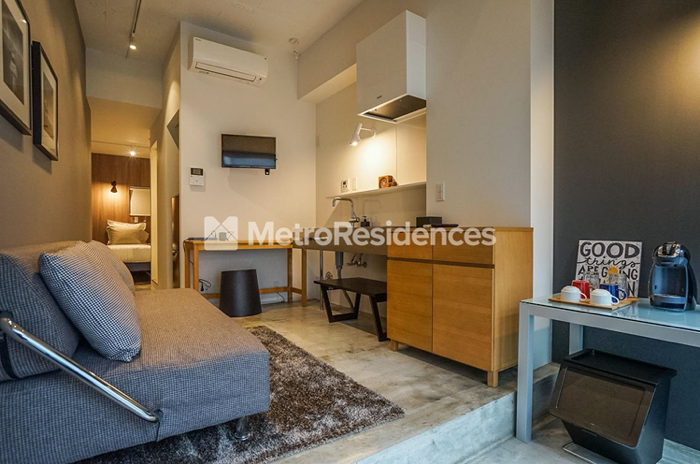 This apartment was just renovated in 2017 and has an unusual style that makes it feel more like a western one bedroom than a Tokyo studio. With two single beds, this is a great apartment for a parent taking their child along for the Tokyo ride.
By combining the kitchen and sofa area, the beds can be in a totally separate space. This can be a godsend for a sleepy little one when you still need to work, or keeping an extra little haven of rest. This apartment has lots of built-in storage and includes clothes washing service 5x a month included in the price.
Ningyocho station is a four-minute walk away, and a weekend jaunt through the beautiful old areas of Nihonbashi is not to be missed.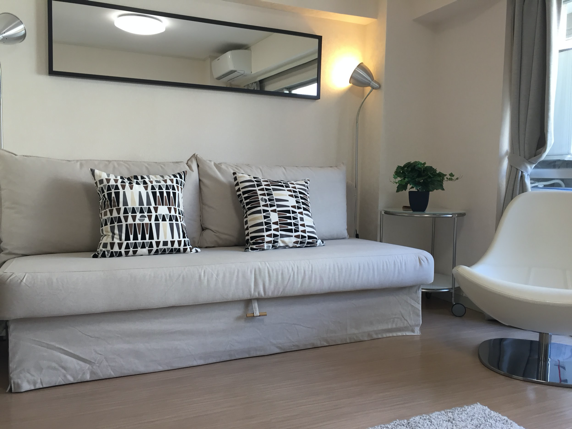 This charming little 1-bedroom is a whopping 45sqm, an incredible luxury at this location and price point. With a dedicated living room and separated bedroom, this is a beautiful space to live in with your family and ring in the Tokyo summer together. Well designed with tons of built-in storage, wake up to the gorgeous morning light streaming through the beautifully clear window.
This apartment is located in the center of three different train lines, with less than a ten minute walk to all.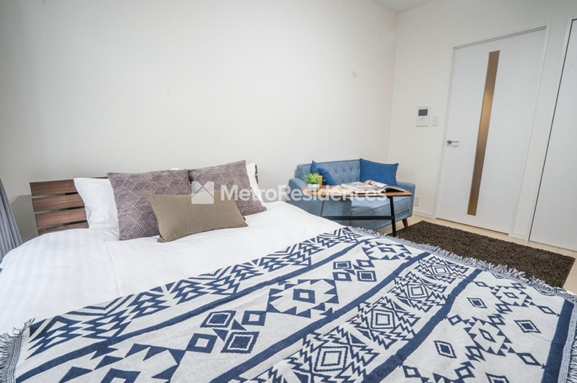 Galicia Nihombashi Suitengu 1br 503 Sp
Look out over the Sumida and Kamegawa rivers from your beautiful balcony in this tidy Suitengu apartment. Everything in this apartment has been designed to maximize comfort and functionality and is surrounded on all sides by convenience stores and supermarkets to stock up on a stormy Tokyo day. With easy access to the Hanzomon, Tozai, and Asakusa lines, this is an excellent space for a business person looking for a cozy and convenient crash pad.
We hope you enjoy all of the delights this amazing neighborhood Ginza Tokyo has to offer. We at MetroResidences wish you a happy stay in Ginza (and a few great shopping deals along the way).
More about neighbourhood: Local guide in Ginza
Recommended Area near Ginza
Best Serviced Apartments near Tokyo station
Best Serviced Apartments in Nihonbashi
Find one that meets your needs by using the MetroResidences Webpage and let our team help you out to provide you a home away from home. Follow us on Facebook, Instagram, and Twitter to learn more about MetroResidences.