The Japanese government announced on September 25 that it intends to relax immigration restrictions after October, but those who return to Japan from overseas first undergo a coronavirus test at the airport and then "self-quarantine" for two weeks.
Where is the place of self-quarantine and how should I spend during those days?
* Since October 8, 2020, Japan and South Korea have signed an agreement on immigration procedures. They will be exempt from self-quarantine for 14 days only for business purposes.
We have summarized the conditions for self-isolation places such as hotels, expenses during your stay, meals, and other things you need to know before returning to Japan.
1. Coronavirus testing at the airport and waiting afterwards
For All returners
All people (all nationalities including Japanese) who enter Japan from all countries are required to do the following three things.
1. Prepare a quarantine place that admitted by the quarantine station to stay for 14 days from the day after entering Japan. The place quarantine station director
2.Secure a means to move from the arriving airport, etc. to the place of stay without using public transportation.
3. Register the place to stay after entering Japan and the means of transportation from the airport, etc. at the quarantine station.
Waiting for 14 days, or voluntary quarantine, means voluntarily avoiding interpersonal contact, even if the test result is negative.
Persons who have stayed in the area subject to immigration refusal
If you have a history of staying in a refusal area, you will be required to do two more things.
4. Get tested for new coronavirus upon arrival
5. In principle, wait in the space inside the airport or in the facility designated by the quarantine station until the inspection result is obtained.
The areas subject to immigration denial are updated from time to time, so you can check "Quarantine" on the website of the Ministry of Health, Labor and Welfare.
Until the coronavirus test outcome turn out
It is said that it will take about 1 to 3 hours to get results, depending on the congestion situation. (Since August, the test method has changed from PCR test to antigen test, so the waiting time has been shortened.)
In the unlikely event that you do a re-examination, there is a note that it may be revealed the day after arrival depending on the situation, so be prepared for a long time. If you are asking your family to pick you up on your arrival or book your hire, you should keep in mind that you may not be able to come out as you expected.
After the test result have revealed
If the test for coronavirus is negative, you can leave the airport. However, you will still be required to wait at the place of stay registered with the quarantine station for 14 days. During the waiting period, you will be subject to health confirmation by a health center.
If the test is positive, you will be instructed to take another PCR test. If the result is positive and you cannot stay at the hotel you booked for self-quarantine, you will be responsible for the cancellation fee. Make sure to confirm the cancellation fee at the time of booking to avoid cost risks.
2. Place for self-quarantine
Two weeks of self-quarantine counts 14 days after the next day you arrive.
Places for self-quarantine: homes, company housing, relatives'homes, friend's homes, apartments, hotels booked by yourself, etc.
It would be nice if you could get home right away from the airport, but it may not be easy depending on the circumstances of your family or colleague living in a rural area.
・ Where the elderly are
・ Need to transfer the domestic flight
・ Need to transfer any public transportation
In such cases, you will need to reserve a place for self-quarantine somewhere for 14 days at your own expense.
important point:
● Book a hotel by your own.
● Prohibit to use facilities such as lodgings where multiple people share toilets and baths are not eligible.
● Some hotels do not accept self-quarantines guest.
3. How to move from the airport
It is requested not to use public transportation to move from the airport to a place of self-isolation such as your home or hotel.
× Public transportation such as trains, buses, taxis, aircraft (domestic flights), passenger ships, etc.
It is recommended to travel by private car or rental car. Taxi is not good, but "hire(limo-taxi)" is OK to use, and the hire company is introduced.
If you do not secure transportation before returning to Japan, you will have to arrange accommodations around the airport and stay until you can secure transportation. I will. Make sure to check before returning to Japan.
4. Do we have to pay the cost for self-quarantine?
The place for quarantine is home,  company housing or friend's home, monthly apartment or a specific hotel. If you choose to stay a hotel, you should pay by your own.
5. How to spend the days for self-quarantine?
What will you  eat?
If you stay a hotel, we are recommend to use delivery serviced. Though you are not prohibit to eat out. You can go to the restaurant with keeping social distances.
According to the Ministry of Health, Labor and Welfare: That is desirable to keep a distance of at least 2 meters from other guests. "
Delivering  every meal for two weeks or eating out cost a lot and you are worried about nutritional balance in terms of health.
Monthly apartments give you more freedom in your quarantine life, such as being able to prepare your own meals.
Since there is a kitchen and home appliances, you can buy ingredients and cook for yourself with a minimum of going out, or you can buy foods and beverage online supermarket. If you cook your own meals rather than eating out, you can save money and reduce the amount of going out, which gives you a sense of security.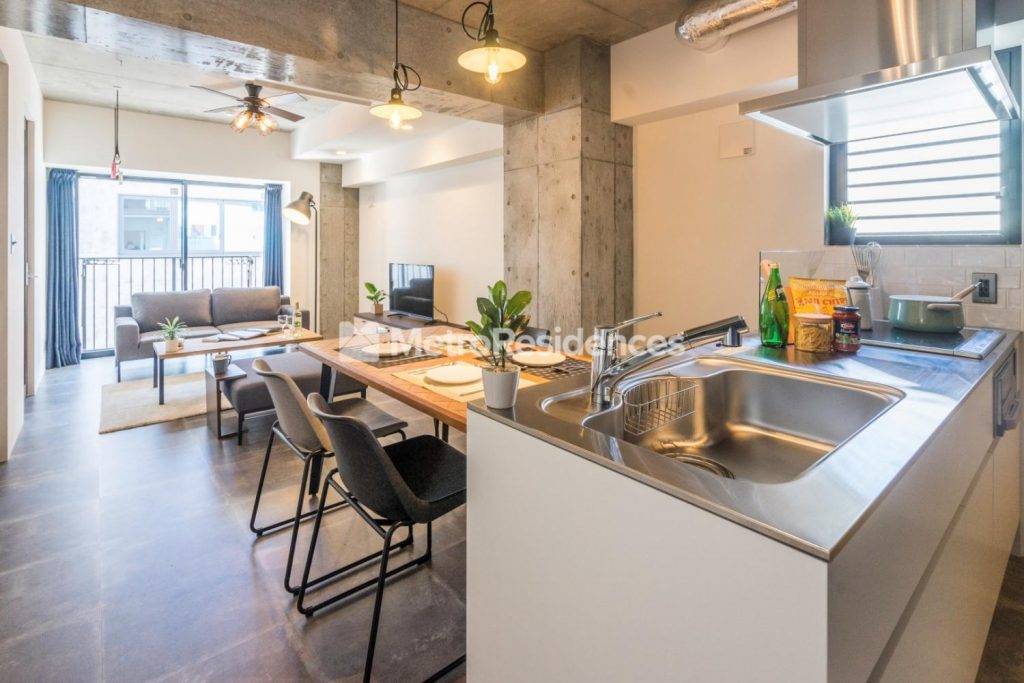 Can we regular cleaning during quarantine stay?
When staying a hotel in self-quarantine, it is necessary to avoid contact with staff as much as possible, so most hotels have "No room cleaning during stay", "No cleaning, only amenities distributed". .. Of course, before and after the stay, normal cleaning including sterilization is done.
If you are staying in a monthly apartments, you will be able to spend your time as if you were at home because there are household appliances such as a vacuum cleaner and you can clean it yourself.
Also, regarding laundry, rather than paying a fee at the hotel and using the laundry service, if you are in a monthly apartment, you can wash at any time because there is a washing machine in the room. It's not easy to wash your hands for two weeks, and if you have an environment where you can easily use the washing machine, you can spend your time as usual.
Where is the best place for self quarantine after arriving at Narita/Haneda Airport?
A monthly apartment is larger than a hotel and allows you to spend your time as if  you could stayed your own room. Equipped with kitchen, refrigerator, work desk and washing machine.
Some monthly apartments can be rented for a short period of less than a month.
Recommended article: Recommended for 2 weeks of voluntary quarantine! Room where you can move in from the next day at the earliest


Metro Residence's monthly apartments and serviced apartments offer furniture, free WiFi  and goods to ensure a comfortable stay during self-quarantine.
Recommended article: A room with telework facilities that allows you to work even during the period of quarantine
All reservations are completed online before returning to Japan, and after check-in you can comfortably spend your work or private time in a room with internet access. Since you can cook and wash in the room, you can reduce the number of outings and spend the period of self-isolation in a form close to usual.
We will help you find a monthly apartment in Tokyo / Yokohama. Please feel free to contact us.
Looking for a weekly/monthly apartment in Tokyo & Yokohama
・Contact form
・email [email protected]
・Phone call 03-4405-5226