Do you have a Suica or Pasmo? These are the names of the most popular IC cards (Rechargeable train cards) in Japan. Public transportation is a huge part of everyday life in Japan and if you are going to be riding the trains more often than not in a month, getting a commuter pass is highly recommended as you might save yourself money and time.
A commuter pass is known as a Teikiken in Japan and it is a plan you can purchase for your IC card. This amazing pass allows free travel on the train route of your choice and most working Japanese are using it!
However, I have come to know many foreigners who either don't know of its existence or the methods of purchasing one. So here is a short guide on the benefits of purchasing a commuter pass and how to do so.
Types of Commuter Pass
Alike normal public transportation tickets, a commuter pass can be classified into 2 types: 'Magnetic commuter pass' and 'IC commuter pass'. In this article, we will mainly talk about the latter as there is so much more you can do with it.
Firstly, an IC commuter pass functions like any other IC card which means you will be able to tap in and out of the ticket gates in an orderly fashion (As long as you have remaining credits inside). Some cards allow you to use your phone as a substitute and charge it on the go, using your credit card. Systems like Apple Pay has made the process so much smoother and everything can be done on your phone!
The e-money movement in Japan also allows payment via your IC card in most convenience stores and we expect this movement to accelerate further, creating a stress-free shopping experience.
Lastly, for forgetful people like myself, only IC commuter passes can be reissued (with a small fee) in the scenario of misplacement or breakage.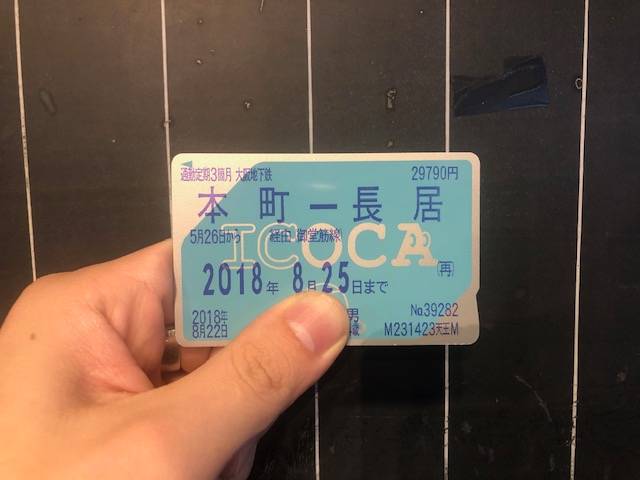 So how much can I actually save?
As mentioned previously, the huge benefit of using a commuter pass is the potential money you could save. So, let's take a look at how much you might save by using a commuter pass.
An example of a monthly journey (22 days per month) between Shinjuku and Ikebukuro.
A round trip from Shinjuku station to Ikebukuro cost ¥314, multiply this by 22 (Average number of working days in a month) and you will get a monthly expense of ¥6908.
Let's compare this to the 3 different commuter pass plans: 1/3/6 month commuter pass;
1 month – ¥4,940  (Difference of ¥1,968)
3 months – ¥14,090 (Difference of ¥6,634 and a discount of¥730 compared to the 1-month plan)
6 months – ¥23,710  (Difference of ¥17,738 and a discount of ¥5,930 compared to the 1-month plan)
Looking at the numbers above, a 1-month commuter pass saves you ¥1968 which amounts to a hefty 28%! These numbers also indicate that if you are travelling more than 16 days along the commuter pass route, it is definitely worth it! Another eye-catcher is the discounts you might receive if you are looking into having a longer plan.
*It is noteworthy to mention that the saving amount varies on your destination.
Moreover, all stations that are between your designated route will be free and you will receive a discounted rate if you travel through these stations – saving you even more money in the process.
Students save more with a Student commuter pass!
If you are a student in Japan you will be able to purchase a Student Commuter Pass which saves you even more! Let's take a look at the same example!
1 month – ¥2,940 (Difference of ¥3,968)
3 months – ¥7,550 (Difference of ¥13,174 and a discount of ¥1,270 compared to the 1-month plan)
6 months -¥14,300 (Difference of ¥27,148 and a discount of ¥3,340 compared to the 1-month plan)
Aren`t the results astonishing? I think we made our point. So, how do you get started with this plan?
How to buy a Commuter Pass in Japan
Where can I buy a Commuter Pass
Commuter passes can be purchased at the ticket machines in the train station. There are many different types of IC cards in Japan and what card you will receive really depends on the region and the station you purchased your card. A new card costs ¥500 and if you are living in Tokyo, most likely you would receive a Suica (JR-East) or Pasmo commuter pass (Tokyo Metro).
If you already have an IC card, you can also add on a commuter pass plan on it too. So, don't forget to bring it with you!
Buying a Commuter Pass at the ticket machine (JR-East)
When you are at a ticket vending machine just follow these steps to get your commuter pass!
Select your language preference at the top right corner.
Select "Pass" on the main Menue.
Select "New Pass" (You can also select Renewal if you already have a Commuter Pass).
Choose "Commuter's Pass.
Select the duration of your pass (Option of 1/3/6 months) & start date.
Enter your starting station name & destination station (Example: Ikebukuro & Shinjuku).
Select your route (Example: Yamanote Line).
Select Pass type: If you have a Suica "Continue using present Suica" or if not "Purchase new Suica" (Requires a fee of ¥500).
*You also have the option to purchase a magnetic commuter pass.
Enter your personal details (First Name, Last Name, Gender, Date of Birth & Phone number).
*Your personal details will be used when you need a replacement card
You will be given an option to top-up your new card with credits.
Complete payment
*Not all machines accept payment via credit card, so I would recommend paying by cash
How to buy a Student Commuter Pass
As a student, the process is slightly different as you would need proof that you are a student. This can be done via a document called "Proof of attendance statement" (通学証明書), which you can get from your school (Other documents such as student ID will not be accepted). Moreover, as the document needs to be verified, you can only purchase it at a JR ticket office.
A trade-off that you will need to make for the extremely cheap price is that you would not be able to choose your starting and destination station. Instead, your route will be designated depending on your closes station to both your home and school.
Summary
With this short guide, now you know how to buy a commuters pass and save more as long as you plan your trip well! This small tip does not only apply to people working in Japan but even for long visits to Japan. However, if you are travelling in Japan for a short duration you might want to consider purchasing a JR Pass (Japan Rail Pass) which is a pass that provides you with free rides on any JR trains including bullet trains (We might write about this in another article).
Share with us your personal tips for travelling cheap in Japan! For more articles follow us at Expat Japan Life! You can also follow us on Facebook, Instagram, and Twitter for blog updates and information about living in Tokyo!